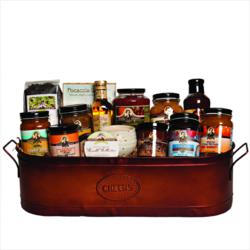 Now more than ever consumers are looking for an easy way to make healthy gift choices for their families and friends.
Alma, KS (PRWEB) October 26, 2012
Grandma Hoerner's, a leading producer of high quality natural and organic foods and makers of Big Slice™ Applesauce, announced their organic and all natural gift offering for Christmas 2012.
The Grandma Hoerner's product line is inspired by the wholesome delights that came out of the kitchen of Mabel Hoerner. Mabel grew up on a farm in Kansas in the late 1880s. The farm had an apple orchard, and over the years she developed a recipe for applesauce. Every autumn she cut thick slices of perfectly ripe apples, added cold spring water, freshly ground cinnamon and nutmeg, and then slowly simmered them over a low flame. The resulting chunky sauce with perfectly cooked apple slices was jarred and given to family and friends who clamored for it, according to Duane McCoy, her grandson and co-owner of Grandma Hoerner's Foods Inc.
Duane and the Grandma Hoerner's family carry on that wholesome tradition by continuing to make Big Slice™ from US apples in small batches.
"Now more than ever consumers are looking for an easy way to make healthy gift choices for their families and friends," said Regina McCoy, co-owner and Duane's wife. "By developing gift baskets with our natural and organic foods, we can give consumers new, delicious ways to surprise loved ones this holiday — with the wholesome quality they have come to expect from Grandma Hoerner's."
Under $30
Grandma Hoerner's offers a full selection of impressive gifts that offer substantial quality for those on a budget.
Big Slice™ Favorite - The customer's favorite Big Slice™ flavors in a reusable jute bag. Makes a great housewarming gift. Large 26 ounce glass jars of Apricot, Cinnamon and Strawberry flavored Big Slice™ are sure to please.
Organic Fruit Preserves - Share with a friend or treat ones self; this gift bag will return smiles all holiday season! This gift features three substantial 18 ounce glass jars filled with Organic Reduced Sugar Strawberry, Blueberry and Apricot Preserves in a reusable jute tote.
Organic Preserve Trio - Organic Reduced Sugar Strawberry, Apricot and Triple Berry Preserves will be a delightful treat for organic food connoisseurs.
Luxurious Flavors
Grandma Hoerner's gift baskets filled with select artisan and all natural products are the perfect choice for the discerning gift giver this holiday season.
Indulge Basket - Indulge in premium ingredients chosen especially for those who have been nice this year! Imported Italian Extra Virgin Olive Oil, artisan pastas, honeycomb, spices and the savory/sweet combination of Grandma Hoerner's best wholesome indulgences.
Ultimate Basket - A perfect thank you or for that VIP on everyone's shopping list! Grandma Hoerner's packs this USA made wooden gift box full of gourmet snacks, treats and sweets.
The Entertainer Basket - The perfect gift for those who love to entertain with friends and family. The Entertainer includes all our favorite products to bless those special people in everyone's life. Comes in a reusable tub.
For Him
Grandma Hoerner's also carries a full line of McCoy's Real all natural barbecue sauces and rubs for the hard to buy for guy in everyone's life.
McCoy's Real™ Basket - The ultimate "Grillin' and Smokin' BBQ Collection" including Duane's favorite sauce mop! Fish, Pork, Chicken or Beef, this collection has everything needed to master the grill.
Savory Gourmet Basket - Create a delicious meal when topping ham, turkey or beef with this collection of all natural savory sauces. Everything needed for that savory foodie!
Brunch Basket - Nothing's better than a morning brunch shared with family and friends. Pile buttermilk pancakes high with Grandma Hoerner's All Natural preserves, fruit butters or pure maple syrup! Or, enjoy topped with Cinnamon Big Slice™.
Naughty or Nice, Grandma Hoerner's has a gift answer for everyone's Christmas list. Make Grandma Hoerner's part of the family tradition this holiday season.
About Grandma Hoerner's
Grandma Hoerner's, created in 1986 in Encino, Calif. and relocated to the Flint Hills of Kansas in 1993, is committed to producing the highest quality of natural and organic foods. Everything is made in small batches, and the first bite always announces use of the finest ingredients. Their delicious creations are showcased in superior packaging which maintains the just-made flavors from harvest to table; visually stunning, from gorgeous cherry pie filling to rich chocolate sauce, customers can literally see the quality in each product.
From our roots we started making Big Slice™ Applesauce in the spirit of Grandma Hoerner, and today we are continuing her tradition by making and packaging all-natural artisan produced delicacies. Offering the very best in service, quality and cutting-edge flavors, Grandma Hoerner's is all about what matters. From taking care of customers and employees to supporting ministries and charities in the local community and abroad. Grandma Hoerner's goal is to deliver a product that is better than any customer could imagine.