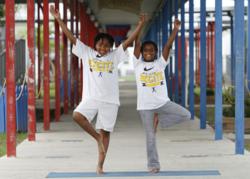 "In five years we have served 400 families, and the waiting list is growing," says co-founder Gerald Williams,. "We are committed to helping the children of New Orleans.
New Orleans, LA (PRWEB) October 26, 2012
An evening of specialty cocktails, hors d'oeuvres, raffle drawings and door prizes will take place from 6:00 – 8:00 p.m. on Saturday, Nov. 17 at Cure to raise awareness for the New Orleans nonprofit Excite All Stars. The "Excite the Night Preview Party" will provide a platform to share program updates about the youth enrichment program and inform guests of the forthcoming "Excite The Night," a Spring 2013 gala that will raise funds for a new facility and other mission-advancement endeavors.
Founded in 2007 by Gerald and Penny Williams, Excite All Stars is dedicated to enhancing children's lives through the development of mind, body and spirit utilizing a variety of organized summer and after school activities. To achieve its mission, Excite All Stars provides summer camps and enrichment programs for children ages 6-14 throughout the metropolitan New Orleans region from all socio-economic backgrounds. From learning business practices by running their own café to participating in New Orleans Health and Wellness week to participating in team sports, Excite All Stars helps kids discover the values that define true victory in the game of life.
"In five years we have served 400 families, and the waiting list is growing," says Gerald Williams, co-founder of Directed Initiatives for Youth, Inc. and Excite All Stars. "We are committed to helping the children of New Orleans. Support for our program will allow us to serve more families and help even more children find their greatness from the inside out."
A minimum $35 online donation made through the official Excite All Stars Facebook page will automatically register donors for a chance to win one of the Preview Party's raffle prizes. Raffle tickets can also be purchased for $10 online or in person from a committee member. Raffle prizes for the Excite The Night Preview Party include an Apple iPad, a New Orleans Sports Experience package, and a New Orleans Weekend Getaway. Door prizes will be available to those who attend the event and include a Woodhouse Day Spa package and a gift certificate to the boutique Hazelnut.
Excite All Stars addresses issues such as servant-leadership, risk-taking, conflict-resolution, health and wellness, and teamwork. The 10-week summer program includes recreational activities, outdoor/adventure programs, educational programs, culinary arts, cultural enrichment and entrepreneurship training. Each week has a theme, such as music week or culinary arts, and the youth work with local professionals in each field. Weekly field trips are also incorporated into the program and further the learning process.
"Ours is a mission of renewal, both physical and emotional," says co-founder Penny Williams. "I've witnessed some amazing development advances in our summer camp programs. I've seen kids with learning disabilities and children with behavioral issues flourish and blossom four weeks in to this unique environment, where they are surrounded by a diverse group of children and welcomed with open arms by our counselors and volunteers."
Junior counselors and interns also lead a community service project, where they raise money and help a person or group in need, such as funding a fresh-water well in Kenya or adopting a senior citizen couple in partnership with Home Depot.
Super Saturday, a year round monthly program, focuses on community enrichment, leadership development and academic enrichment. Excite All Stars aims to stay connected to the program's members year round and follow the youth all the way through to college to set them on a path to success.
For more information on Excite All Stars or "Excite The Night," please visit https://www.facebook.com/ExciteAllStars to get involved or donate to the philanthropic efforts of the program.