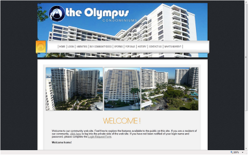 (PRWEB) October 26, 2012
AtHomeNet, Inc., a provider of web-based services for community associations and association management firms, is pleased to announce the successful implementation of FrontDesk Services with The Olympus Condominium in Hallendale Beach, Florida. The Olympus (http://www.olympuscondo.com) is located on the beautiful Intracoastal Waterway only a few minutes from the Atlantic ocean and a short drive north from Miami Beach.
FrontDesk Services, introduced earlier this year by AtHomeNet, is an online service that integrates with condominium association websites and allows residents and staff easy online management of visitors and guests, control of resident package delivery, and even valet scheduling service. Security Chief Ann Marie Campbell with The Olympus Condo says they are delighted to switch from the old paper system for package tracking and states "Owners are very excited about the ability to use the new signature pad method of accepting delivery". The luxury condominium has three buildings and over 1000 residents now receiving their package tracking and delivery notifications by text message and email. The Olympus is currently in the process of establishing the Visitor Management option of FrontDesk Services; so owners can create their own authorized guest list which will be accessible online by the Olympus staff for enhanced building security.
Since creating a website with AtHomeNet in 2011 for their distinctive residence buildings, The Olympus Condominium owners have also enjoyed other online options such as access to view their private association account information, and their most popular website feature highlighting photos of their exceptional amenities including a 26 slip marina, pools, fitness spa and saunas, and tennis courts. "It's exciting to present cost-effective solutions that help resolve challenging problems faced by condominium managers every day" comments Susan Sanders, CEO of AtHomeNet. "The many success stories we hear from our clients across the country let us know we're providing online services that make a positive impact on the lives of residents."
About AtHomeNet, Inc.
AtHomeNet® is the nation's premier provider of customized, affordable websites for communities and Professional Association Management Firms. The company was founded in 1998 by Jeff and Susan Sanders. With their HOA websites now being used in over 2.2 million homes in 8 countries, AtHomeNet continues to grow as a company and enhance their services in the ever expanding world of online technology. For more information on AtHomeNet please visit http://www.AtHomeNet.com or contact Cyndi Sanders at Marketing(at)AtHomeNet(dot)com or call 1-800-556-7852.