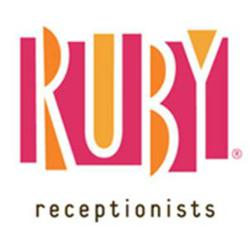 We have long been creating a remarkable and rewarding workplace culture. I am so proud of everyone at Ruby.
Portland, Oregon (PRWEB) October 26, 2012
Great Place to Work® named Ruby® Receptionists the #1 Best Small to Medium Size Workplace in the nation. Published today in Fortune Magazine, the list recognizes companies that have exceptional workplace cultures.
"I was incredibly touched to hear that we had made the list," said Ruby Founder & CEO Jill Nelson. "And was speechless when I learned we were #1. We have long been creating a remarkable and rewarding workplace culture. I am so proud of everyone at Ruby. We all come to work each day with a real passion and purpose for the work we do — and, more importantly, for the people we work with. In an era focused on technology, we're keeping real human connections alive and well."
After two years in the top ten of Oregon Business magazine's "100 Best Companies to Work for in Oregon" list, Ruby Receptionists — a leading provider of live, virtual receptionist services — is proud to now be recognized nationally. Great Place to Work® selected Ruby among hundreds of applicants for its standout employee happiness.
"This list represents the best of the best," said Susan Lucas-Conwell, Global Chief Executive Officer of Great Place to Work®. "While each company is unique, what they have in common are strong cultures that support positive workplaces." Great Place to Work® evaluates companies using a unique methodology based on five dimensions: credibility, respect, fairness, pride and camaraderie. In all categories, Ruby shined.
Ruby makes exceptional efforts toward fostering employee happiness. For example, the company sponsors several "killer" — as employees call them — parties each year, along with community service activities and educational programs to foster team-building and camaraderie. Ruby also gives employees access to company-sponsored gift cards and a pre-paid Amazon.com account so they can spontaneously send clients small, thoughtful gifts that support Ruby's "Practice WOWism" core value.
In addition, Ruby recently launched two unique programs: "Five at Five," a new sabbatical program providing five weeks of paid sabbatical upon five years of employment. Eleven of Ruby's 95 current employees will become eligible for sabbatical this year. Ruby's program is believed to be one of the first among other companies offering phone-based support, such as call centers and answering services. The second was Ruby's innovative "Happiness Journal" program, which asked employees to write daily about their gratitude; the six-week program increased employee happiness and, in turn, had a positive impact on the bottom line.
About Ruby Receptionists
Harkening back to an era when every call to an office was answered by a friendly receptionist, Ruby Receptionists provides personalized live, virtual receptionist service to small businesses and professionals throughout North America. Ruby leverages proprietary technology and its people live four Core Values – "Foster Happiness," "Practice WOWism," "Create Community," and "Innovate" – to deliver its unique vision for customer experience. Founded by Jill Nelson in 2003, Ruby Receptionists was named one of the "100 Best Companies to Work for in Oregon" in 2010, 2011, and 2012 (Source: Oregon Business) and has ranked as one of Oregon's fastest growing companies for five consecutive years (Source: Portland Business Journal). For more information about Ruby Receptionists, visit http://www.callruby.com.
About Great Place to Work®
Great Place to Work® is a global consulting and management training firm specializing in workplace excellence and development of high-trust organizational cultures. Its proprietary research tool, the Trust Index© Employee Survey is taken by over 10 million employees in 45 countries annually. Leading companies worldwide apply its Model® to increase the levels of trust across their organizations and drive business results. Annually, Great Place to Work® produces the annual FORTUNE 100 Best Companies to Work For® list and the Great Place to Work® Best Small and Medium Workplaces list. Follow Great Place to Work® online at http://www.greatplacetowork.com and on Twitter at @GPTW_US.