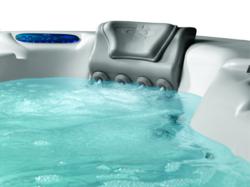 Vista, CA (PRWEB) October 26, 2012
Halloween is upon us, which is the perfect time to brush up on horror movie knowledge. Remember that scene from Poltergeist where Diane finds the pool filled with "dead bodies"?
You might want to take a few tips from Dimension One Spas (D1), who has been eliminating "dead bodies" in their hot tubs since 1988—Poltergeists beware!
"Dead bodies" are the bacteria that live in your spa water. Any body of water has the potential for bacteria unless cleansed. Many spa manufacturers use water management systems that kill the bacteria, but then leave the "dead bodies" floating in the water. Yuck! The good news is water can be completely purified—to the point where it's clean enough to drink. That's where D1's patented technology comes in.
Almost all hot tub manufacturers use ozone as their top-of-the-line sanitizer today, but that's old news for D1, who was the first in the industry to use ozone with ClearZone in 1988. Ozone is a natural, safe and highly effective sanitation method that significantly reduces the need for chemicals.
Never satisfied, D1 then improved upon this industry standard with the patented UltraPure system in 1996. This dedicated hot tub filtration system vigorously mixes ozone and water three times to ensure ozone comes in contact with every drop of water. No bacteria can possibly escape!
Bacteria killing became too invigorating for D1 to stop there, so they improved their system once again with the powerful, UltraPure PLUS which introduces Ultra Violet light to the equation. Together, ozone and UV light are unstoppable. UV light removes the "dead bodies" as they pass through filters and pipes, and assists in the breakdown of ozone so it can more efficiently zap the bacteria leaving no trace—just clean, sparkling water.
------------
About Dimension One Spas
Dimension One Spas (D1), founded in 1977, is the industry leader in designing and
manufacturing luxury home hydrotherapy and aquatic fitness products. The family-owned business has combined its innovations in materials, science and water handling technology to bring customers the most advanced spas in the world-- engineered to rejuvenate both body and mind. D1 has created a benchmark for quality and innovation with a focus on consumer's preferences, offering four distinct high performance collections. Please visit http://www.d1spas.com for more information.
###