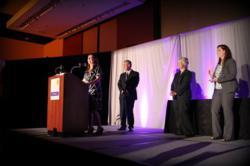 Houston, TX (PRWEB) October 25, 2012
Blinds.com, the world's largest online window covering store, was honored today as a 'Best and Brightest Company to Work For' in Houston, Texas. This annual award recognizes Houston-area top businesses that provide employees with a positive, exciting and growth-oriented workplace.
One of 38 companies honored by the National Association for Business Resources (NABR), Blinds.com also took home the 'Best of the Best Overall' award presented by Houston Mayor Annise Parker. This 'Elite' award recognized the top ranking business out of over 400 entries and celebrated Blinds.com's commitment to employee development and company culture.
To identify the top performers out of hundreds of Houston area business applicants, an independent research firm evaluated each company's entry based on key measures in various categories. They include Compensation, Benefits and Employee Solutions; Employee Enrichment, Engagement and Retention; Employee Education and Development; Recruitment, Selection and Orientation; Employee Achievement and Recognition; Communication and Shared Vision; Diversity and Inclusion; Work-Life Balance; Community Initiatives and Strategic Company Performance.
"The selection, recognition and awarding of Houston's 101 Best and Brightest Companies to Work For allows businesses to showcase their best practices and demonstrate why each of them would be an ideal place for employees to work. This year's winning companies represent high standards and are an example for other companies to emulate," said Jennifer Kluge, president of NABR. "It is a privilege to hold this event for the first time ever in Houston and honor the best that this community has to offer."
Other honorees included the City of Houston, Keystone Resources, Lasco Enterprises and The College Money Guys. Read more about the Houston's Best and Brightest award winners here and learn more about Blinds.com job opportunities and award winning corporate culture on their site: http://www.blinds.com/control/about.
ABOUT BLINDS.COM
Blinds.com (http://www.Blinds.com), owned by Global Custom Commerce, is the largest online window covering store in America, covering over a million windows a year since 1996. Today, Blinds.com is ranked No. 215 on the prestigious Internet Retailer 500 list. Download 'The Window Shopper' augmented reality shopping iPhone and Android app to make ordering custom blinds, shades, shutters and draperies a no brainer. Blinds.com offers installation videos, award winning customer service and a SureFit Guarantee to make buying blinds online surprisingly easy and stress-free. Go online to http://www.Blinds.com to shop or call 1-800-505-1905 to speak to one of 100+ blinds experts.