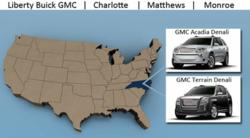 Charlotte, NC (PRWEB) October 27, 2012
North Carolina GMC Dealerships are following the national sales trends for GMC's primary crossover vehicles. A record number of North Carolina GMC Dealerships reported an increase in the sale of the GMC Acadia crossover SUV and the Terrain Crossover SUV. This mirrored the massive increase in sales across the nation. Specifically nationally the Acadia's sales increase was up 22 percent and the Terrain was up 13 percent.
Scott McCorkle, owner of Liberty Buick GMC is Charlotte, North Carolina's highest producing GMC Dealer. McCorkle said "Sales of the GMC Acadia and GMC Terrain are up and we're thrilled! We work hard to be the best at what we do and we think providing Americans with great transportation and comfortable design is important." Hendrick of Raleigh, North Carolina reported similar results.
Both in North Carolina and nationally, the release of the GMC Acadia in 2007 was considered the fuel for great sales that took place that year. Until now, 2007 has been the best total sales year for the GMC brand. The Acadia's release marked a revolution in the Crossover SUV market. The vehicle's seven or eight passenger seating options appeals to a specific demographic that is extremely different than the historically loyal truck buyer, but that hasn't stopped the crossover from being one of the highest sources of sales for the GMC brand. The two crossovers, Acadia and Terrain and their luxury Denali versions are all responsible for about 43 percent of all GMC sales or more.
"Crossovers continue to play an ever-more important role for GMC as more customers look for space-efficient, yet capable vehicles," said Brian Sweeney, vice president of GMC Sales and Service. "With Terrain and Acadia, we cover a wide range of needs and wants in terms of seat count, versatility, advanced technology and available equipment."
Experts believe that the increase in sales of crossovers for the months of August and September of this year can be attributed, at least in part, to the addition of the new GMC Terrain Denali. The Denali line represents the luxury versions of many of GMCs vehicles, including both of the crossovers. The new Denali Terrain has taken over the market for one out of every five Terrain sales, and comes decked out with all new luxury safety and technology features. North Carolina dealers report the same statistics on their luxury models.
Sales of crossover vehicles are picking up at a rapid pace, and sales of many other vehicles are picking up as well, leading to an overall positive increase over the past few months. Some GMC vehicles are faring better than others, as the Sierra full-size and light-duty trucks both experienced a small decrease in sales.
"We're both proud and pleased by the news," said Scott McCorkle. "We're happy that we've made the sales in North Carolina but we're also proud that we're selling products that please drivers nationally."
Scott McCorkle's Liberty Buick GMC Trucks is located at 9028 East Independence Boulevard or can be reached by phone at 704-321-4366. Check out the website at http://www.clickliberty.com