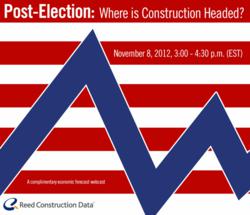 This is an outstanding opportunity to hear what industry experts expect for construction immediately after the election and into 2013.
Norcross, Ga. (PRWEB) October 26, 2012
Reed Construction Data announces a new economic webcast: "Post-Election - Where is Construction Headed?" The webcast broadcasts live on November 8, 2012, at 3:00 p.m., EST.
On the morning of November 7, everyone should know the results of the presidential election. On November 8, find out what industry-leading chief economists, Bernard Markstein of Reed Construction Data, Ken Simonson of The AGC of America, and Kermit Baker of the American Institute of Architects, expect for the post-election construction economy.
"We are excited to have these three top-tier economists appear so soon after the election," said Daimon Bridge, Senior Director of Market Intelligence, Reed Construction Data. "We've head the opinions of candidates and commentators; this is an outstanding opportunity to hear what industry experts expect for construction immediately after the election and into 2013."
The economy has been a focus of campaigns and debates for many months. The fiscal cliff is still ahead, and many questions remain about the U.S. and global outlooks. The three construction economy experts provide their predictions for the post-election landscape, with planned topics to include:

How will the election really affect the economy?
Will the recovery gain strength or stop in its tracks?
Where are building materials costs heading?
What areas and segments of construction will grow; which ones are most vulnerable?
What are the threats and risks to recovery?
The webcast begins at 3:00 p.m., EST, on November 8, 2012 and will be archived for later viewing. The panel of experts accepts questions from the online audience during the last half hour.
To find out what these three top economists expect for the near future of the construction industry, please click here to register for the webcast.
The webcast is open to everyone, but registration is required prior to the event. AIA Members who register and view the live broadcast are eligible to receive 1.5 AIA CEU continuing education credits.
About Reed Construction Data
Reed Construction Data LLC (RCD), a division of Reed Business Information and the Inaugural Strategic Partner of the AIA, is a leading North American provider of construction information. Reed Construction Data's diverse portfolio of innovative products and services includes national, regional and local construction data, building product information, advertising channels, construction cost data and market intelligence for construction industry professionals in the U.S and Canada. Visit the Reed Construction Data website at http://www.reedconstructiondata.com.
About The AGC of America
The Associated General Contractors of America (AGC) is a national trade association, dedicated to furthering the ever-changing agenda of commercial construction contractors, improving job site safety, expanding the use of cutting edge technologies and techniques, and strengthening the dialogue between contractors and owners. Founded in 1918, AGC today represents more than 33,500 member firms, including 7,500 of America's leading general contractors and over 13,000 specialty-contracting firms. Visit the AGC website at http://www.agc.org.
About The American Institute of Architects
For over 150 years, members of the American Institute of Architects have worked with each other and their communities to create more valuable, healthy, secure, and sustainable buildings and cityscapes. Members adhere to a code of ethics and professional conduct to ensure the highest standards in professional practice. Embracing their responsibility to serve society, AIA members engage civic and government leaders and the public in helping find needed solutions to pressing issues facing our communities, institutions, nation and world. Visit the AIA website at http://www.aia.org.
###