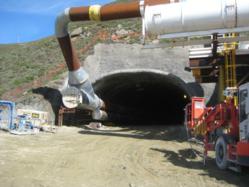 These rankings underscore how HNTB is helping clients meet their unique needs by developing creative funding, management and design strategies.
KANSAS CITY, Mo. (PRWEB) October 25, 2012
Four HNTB Corporation-related transportation projects were named to Roads & Bridges magazine's Top Roads List for 2012.
"HNTB is dedicated to understanding the issues that affect our clients' ability to complete complex programs and projects," said Ken Graham, HNTB Infrastructure CEO. "These rankings underscore how HNTB is helping them meet their unique needs by developing creative funding, management and design strategies."
The HNTB-ranked projects include:

No 2: Devil's Slide Tunnel – HNTB's highest ranking project in this year's list, the $430 million project in San Mateo County, Calif. It represents the first tunnels – there are actually two, 60 feet apart – constructed by the California Department of Transportation in more than 50 years, and when completed early next year they will be the second longest road tunnels in the state. It replaces an infamous coastal stretch of California's State Route 1, which has been subject to lengthy closures from slipouts and rockslides, high maintenance costs and risk of permanent failure. HNTB worked closely with Caltrans to fully explore several alternative design and construction methods for the new tunnels. HNTB conducted geologic and geotechnical site characterization, portal stability analysis, geohydrologic modeling and soil structure interaction for the tunnel support system loads. HNTB also was responsible for designing the tunnel lining and portal; initial ground support using the New Austrian Tunnel Method construction; final lining design, including seismic analyses; soil-nail retaining walls; ventilation design using jet fans (a first); and electrical, lighting and systems monitoring design. HNTB's design included several intelligent transportation systems elements such as signs that warn motorists if there is a breakdown ahead and technology that tests air quality.
No. 4: I-15 CORE – Not every highway project comes in at $600 million under budget or finishes two years ahead of schedule. But that's what's happening in Utah, where HNTB has been the program management consultant on a massive expansion of Interstate 15 for the Utah Department of Transportation. The I-15 CORE project involves complete freeway reconstruction over 25 miles – adding additional lanes to the highway, extending an express lane, rebuilding and reconfiguring 10 freeway interchanges, and replacing 63 aging bridges. It's intended to meet Utah County transportation demands through 2030. The project is nearing completion on what UDOT says "is the fastest construction schedule for a billion-dollar public highway project in U.S. history."
No. 5: Doyle Drive/Presidio Parkway Phase I – HNTB is performing lead design on the Doyle Drive/Presidio Parkway project, California's first public-private partnership. It involves replacing the south access road to the Golden Gate Bridge in San Francisco, which dates to 1936. The road winds through the Presidio of San Francisco, a historically significant site now part of the Golden Gate National Recreation Area. Phase I was completed April 30, 2012, providing seismic safety on Doyle Drive. It consisted of construction of a portion of the southbound roadway, including a southbound high viaduct, a southbound Battery Tunnel and a detour around the second phase, which will complete the southbound roadway and remove the detour. HNTB's design had to take into account very unstable soil conditions, consisting of bay muds and shallow aquifers, in a seismic zone. The team also worked through several environmental compliance issues and the tunnel's extremely restricted footprint between the existing Doyle Drive and the San Francisco National Cemetery. The California Department of Transportation and the San Francisco County Transportation Authority awarded the Presidio Parkway Project in October 2010 as a design-build initiative to the Golden Link Concessionaires. GLC is comprised of HOCHTIEF PPP Solutions North America Inc. and Meridiam Infrastructure, with Flatiron and Kiewit serving as the constructors and HNTB as the design partner. Phase II is scheduled for completion December 2015.
No. 6: Mitchell Interchange – Milwaukee can see the light at the end of the tunnel. The Mitchell Interchange project – comprised of 29 new bridges, 3 tunnels, 52 retaining walls, 16 noise barriers and 83 sign structures – is within three months of successful completion. HNTB, as part of a joint venture partnership with CH2M HILL, designed the interchange for the Wisconsin Department of Transportation. Recommendations included three cut-and-cover tunnels for the I-43 north and I-94 to I-894 movements, allowing the roadways to cost-effectively traverse over the movements, replacing seven highly skewed bridges. Contracts were defined years in advance, starting with those that impacted the travelling public the least. The Mitchell Interchange was built in 29 contracts, on time and within budget. Creative packaging and upgraded traffic signals around the interchange were used to minimize inconvenience and ensure the public's safety.
About HNTB
HNTB Corporation is an employee-owned infrastructure firm serving public and private owners and contractors. With nearly a century of service, HNTB understands the life cycle of infrastructure and solves clients' most complex technical, financial and operational challenges. Professionals nationwide deliver a full range of infrastructure-related services, including award-winning planning, design, program delivery and construction management. For more information, visit http://www.hntb.com.