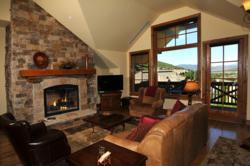 "This year, the number of transactions I've closed have quadrupled, indicating that the real estate market in the Vail Valley is improving." - Page Slevin, Vail/Beaver Creek real estate broker
Beaver Creek, Colorado (PRWEB) October 26, 2012
While the U.S. real estate market has been slow, resort property sales in Beaver Creek are a bit more lucrative. Even so, real estate investors are looking for deals – they'll find one when Highest Bidder Sale brings a luxury condominium at Beaver Creek Resort to auction. This new sales platform could further the success of the real estate market in the Vail Valley. "Our method is intended to help owners sell faster than the traditional sale process allows," said Jackie Lange, President of HighestBidderSale.com. "We've sold over 100 properties nationwide, and we know the price point for ski-in/ski-out property is on target here. It's is an amazing opportunity to buy prior to the 2012-2013 ski season."
Real Estate Auctions: What Makes This Different?
Highest Bidder Sale's auction method gives buyers two to three days to leisurely review property details online, and then inspect it at an open house before placing a bid. It is a personalized process that then takes buyers to a private bidding process. "Highest Bidder Sale offers sellers an incredible opportunity to move real estate faster," said Ms. Stephens. "Because this is a luxury real estate market, this type of auction provides a little breathing room for sellers to get a deal in place more quickly."
At this weekend's open house, Saturday and Sunday October 27 and 28 from 11:00 a.m. until 4:00 p.m., bidders may bring financial advisors or inspectors to tour the property and inspect documents provided by Ms. Stephens. Bidders are required to register before submitting a no-obligation bid, which can be done by phone starting on Friday, October 26, 2012 at (703) 627-3319 or in person at the open house. Bids will be accepted until 6:00 pm on Sunday, a half-hour prior to the start of the Round Robin Auction.
For non-cash buyers, qualified lender financing information will be available at the open house with proof for source of 30% down payment required to obtain financing. For more information about this sale, policies, and detailed property information, visit http://www.HighestBidderSale.com/members/colorado/.
Vail Real Estate: Market Trends
According to the Vail Valley's top real estate firms, sales have increased in 2012 in year over year comparisons. The average price per square foot for condominiums in Beaver Creek increased in 2012's third quarter from $686 in 2011 to $695. Real estate, as recorded by Slifer, Smith & Frampton, sold at an average price of approximately $1,643,000. "This is the best year I've had since 2007 and it looks like it will end higher than that," said Page Slevin, a local real estate broker with Prudential Colorado Properties. "This year, the number of transactions I've closed have quadrupled, indicating that the real estate market in the Vail Valley is improving."
The Property: Ski-In, Ski-Out – The Mountains' Beachfront Property
Ms. Stephens offers her two bedroom, three bath, fully furnished, penthouse condo in turn-key, move-in condition. Located adjacent to the ski lifts, the building was constructed in 2007. Wood trim and floors, designer furnishings, fireplace, upscale kitchen, air conditioning, washer/dryer, and high speed internet finish out this unit. "If you love the skiing, golfing, fine dining and the arts, this is the place to be," said real estate investor Simone Stephens. "Owners live an incredible lifestyle plus benefit financially from acquiring a solid investment."
Amenities include heated pool, hot tubs, underground parking, private ski lockers with heated boot dryers, game room, fire pit, on-site fitness facility, in-building lift ticket sales and ski service concierge, and Village Transportation. Also available are on-site front desk, with check-in and full concierge services, access to The Club Allegria at Park Hyatt Beaver Creek, and daily housekeeping.
"Bids will start at $675,000 which is $300,000 lower than list value," said Ms. Stephens. "This equals approximately $432 per square foot, significantly lower than the average in Beaver Creek."
Location, Location, Location
The Vail/Eagle Regional Airport (EGE) is a short 30 minute drive from Beaver Creek Landing. With Vail's large international audience, the airport offers private jet accommodations and a full range of jet and airplane services at the Vail Valley Jet Center. New hangar space customized to individual jet specifications is available for purchase. For more information, please call (703) 627-3319.
"The new owner can enjoy all that Beaver Creek has to offer, including front-row access to the resort for the upcoming 2015 World Cup Championships," said Ms. Stephens. "All eyes will be on Beaver Creek for the next several years."
For more information, visit http://www.HighestBidderSale.com/members/colorado/ or call (703) 627-3319.
# # #