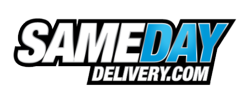 "You've got to dream big, believe big and execute big to be successful," says a determined Dan Boaz.
(PRWEB) October 30, 2012
Not content with keeping up with today's technology, Dan Boaz announces the launch of SameDayDelivery.com, an Internet company that harnesses the power of the very latest technology to streamline the same day delivery process while providing greater satisfaction for customers, delivery companies and drivers. Through the SamedayDelivery.com website, a delivery can be requested, dispatched and paid for all in one seamless action.
"The beauty of SameDayDelivery.com is that it eliminates all the kinks that slow down the delivery process," explains Boaz. "On top of that, it also eliminates waiting for payments since it uses PayPal for payment processing, and drivers really love that they get paid instantly."
Small delivery companies working under the SameDayDelivery.com brand have a greater chance for success since they are tied into a strong, esteemed company with an extensive carrier network. The bonus to them is no waiting for payments, no invoicing, and the technology is provided. They become part of the SameDayDelivery.com widespread marketing campaign, in addition to the North American same day delivery network that can all be accessed easily by mobile phone, tablet or computer.
At SameDayDelivery.com, there is no limit to opportunities due to the vast network of carriers with more than 50,000 units on the road. The independent agent business model is complimented by Cloud-based technology to bring direct access to a full range of same day delivery and expedited trucking services.
SameDayDelivery.com will experience high growth because of its fearless leadership and the hardcore members of its expedite team. It will captivate the online delivery business with its unparalleled ability to deliver on its promise, made possible because of its high-energy culture, innovation and web presence. "With a serious emphasis on the task at hand, we provide advanced time critical deliveries for the client," explains Boaz. "And our best-in-class technology is a critical component of our business model."
Dan Boaz has been a visionary in the delivery world since 1985. He began his career as a driver for UPS and worked his way through management as an industrial engineer. Most recently he piloted AirFreight.com and its successful subsidiaries, ExpeditedFreight.com and GlobalLogistics.com. His brands dominate the Internet in the expedited freight services sector of the industry. In this endeavor, he will bring SameDayDelivery.com a giant leap closer to the world of seamless, cashless and effortless transactions.
Failure is not an option for Dan Boaz and his delivery business. SameDayDelivery.com will be profitable from day one and on track to dominate the same day delivery industry. He has a mean streak for success and no one better get in his way. He is driven like no other and nothing can stop this "freight train" that drives him, it's in his blood.
"You've got to dream big, believe big and execute big to be successful," says a determined Dan Boaz.
###