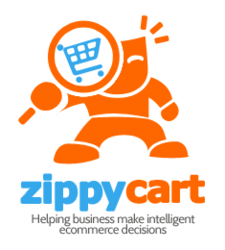 "While social media and marketing are current favorites, website security is a huge consideration that is often undervalued," states Susan Delly, owner/CEO of Zippy Cart.
Sunnyvale, CA (PRWEB) October 29, 2012
Zippy Cart, the eCommerce evaluation site, is pleased to announce the release of their 2012 eCommerce Software reviews, aka Shopping Cart Software reviews. These powerful, up-to-date reviews make eCommerce decisions easier for small to medium business owners who are looking for the right software to start or transfer an online store. Zippy Cart highlights the top 12 eCommerce platforms of 2012 with thorough evaluations and break-down the most important details in an easy-to-understand ranking system.
Known for being a truly unbiased source of eCommerce reviews, Zippy Cart is proud to have narrowed the field this year and worked with only the top 12 eCommerce solutions companies. This was no small feat as there are currently over 400 eCommerce software companies to choose from. Future merchants, both brick and mortar business owners and active eMerchants can now easily access the information they need in a timely manner as Zippy Cart has completed the hours of intense research for them. Some of the companies reviewed in this year's line-up include Shopping Cart Elite, Amazon Webstore, Nexternal, Pinnacle Cart, and more.
"In choosing the best companies to work with, we looked at top features such as Ease-of-Use, Security, Customer Service, SEO, and Marketing / Social Media tools," states Susan Delly, owner/CEO of Zippy Cart. "While Social Media and Marketing are current favorites, Website Security is a huge consideration that is often undervalued. With all of the potential fraud threats out there, it's imperative that an eCommerce owner protect themselves and their customers with a solution that is PCI-compliant… or better yet, PA-DSS compliant with extra levels of security, such as SSL certificates."
Zippy Cart breaks down important features with a brief explanation and a weighted ranking system. If visitors are more inclined to skip the reading, however, they can check-out Zippy Cart's most popular tool, an intuitive search engine that helps eMerchants find the eCommerce solution that best fits their needs, in 3 simple steps. After users fly through a handful of questions designed to focus on a unique business, this search engine will narrow and show results for the top 3 shopping cart solutions that best fit that specific business. Though this tool was first designed with eCommerce newbies in mind, it is used by all and a constant source of positive feedback.
There is a wealth of information to be found at Zippy Cart so whether you're looking for the best hosted and licensed eCommerce solutions of the year, information on how to start a web shop, or just want a shopping cart software comparison chart, they've got you covered. To learn more, check out their eCommerce News Blog for trending eCom news and their current eCommerce software rankings for the best shopping cart solutions of the year.
About ZippyCart.com
Zippy Cart is a San Francisco bay area company that consistently ranks as one of the top trusted review sites on the web. They also provide an extensive eCommerce News Blog and all of the information needed to help run an online store. While they specialize in the needs of a small to medium business, Zippy Cart invites visitors to contact them personally if they have additional questions or requests for new blogs. Also, they can be found on Twitter, Facebook or G+.