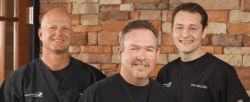 Fort Worth, TX (PRWEB) October 26, 2012
Fort Worth Dental's Dr. Terry M. Zang, Dr. Arthur J. Mund, and Dr. Justin Mund understand that it can be challenging for people to wait the standard length of time for braces to do their job getting teeth straight. In addition, people do not want to deal with sensitivity caused by tightening the wires off and on during that time. However, the art of dentistry is constantly being affected by improvements in technology.
Using new techniques helps the dentists at Fort Worth Dental provide the speedy services that patients are looking for. Over the years there have been many technological advances that have aided dentists in the way they provide care to their patients. Many processes have been speeded up or have become more efficient. Methods of sedation have improved and fewer patients have the traditional fear of visiting the dentist than ever before.
Braces are often associated with teenagers who are working to get their teeth straight, but more and more professional people want to improve their smiles and want to have straighter teeth. They appreciate the way dentistry has changed over the years with more options available all the time. With the unique triangular-shaped brackets and a single square wire, the Fastbraces are able to move the crowns of the teeth gently into the proper alignment while moving the roots of the teeth at the same time. Traditional brackets first move the crowns and then move the roots, which is why they traditionally take two years.
Because both the root and the tooth are being moved at the same time, less friction is caused, which seems to reduce the amount of sensitivity a person feels during the process. Research also shows that tooth root shortening is minimized with Fastbraces because the patient wears braces for a shorter period of time. Many patients who have selected this method of straightening teeth have been pleased with the results and appreciate the shorter duration of the process. Not everyone is a candidate for this procedure and those interested must be evaluated prior to starting the procedure. More information about Fastbraces can be found at http://www.fortworthdental.com.
Fort Worth Dental is a general practice offering patients personalized dental care for Fort Worth, TX. Dr. Terry M. Zang, Dr. Arthur J. Mund and Dr. Justin Mund are all dedicated to their dental practice, which offers the recent FDA cleared laser procedure for gum disease and periodontal treatment. Focused on preventative, restorative and cosmetic dentistry, they each have unique attributes for the practice. To learn more about Fort Worth Dental and their dental services visit their website at http://www.fortworthdental.com.