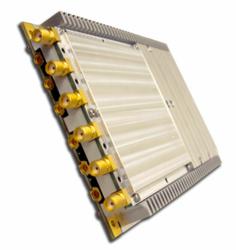 Burnaby, BC (PRWEB) October 26, 2012
Spectrum Signal Processing by Vecima ("Spectrum"), trusted supplier of embedded processing, RF and I/O solutions, today announces the RF-4102 wideband frequency-agile RF transceiver module covering an analog frequency range of 20 MHz to 2.7 GHz. The RF-4102 module provides RF-to-Digital baseband capability in a single-slot 3U CompactPCI (cPCI) card for applications including signals intelligence (SIGINT), tactical military communications (MILCOM), electronic warfare (EW), software-defined radio (SDR), and cognitive radio (CR).
"The RF-4102 module was developed in response to customer demand for extending the frequency range lower than our current offering," said Mark Briggs, General Manager for Spectrum. "It also provides more instantaneous bandwidth, which is well suited for applications such as wideband receivers, transmitters, and jammers."
The RF-4102 module features the following:

High linearity RF tuner/exciter, 20 MHz to 2.7 GHz (HF, VHF, UHF, L-Band, ISM)
Up to 200 MHz instantaneous receive analog bandwidth
Up to 400 MHz instantaneous transmit analog bandwidth
14-bit analog-to-digital converter (ADC) sampling at 490 MSPS
16-bit digital-to-analog converter (DAC) sampling at 980 MSPS
Supports fast frequency-hopping applications up to 3000 hops/second
On-board user-programmable Xilinx® Virtex®-5 SX95T-2 FPGA for signal processing functions such as channelization (DDC/DUC), demodulation/modulation and error correction
Digital downconverter (DDC) and digital upconverter (DUC) IP cores included
Available in rugged conduction-cooled or commercial air-cooled options
Designed for rapid customization to satisfy project- or application-specific requirements.
The RF-4102 module is fully compatible with Spectrum's Software Defined Radio (SDR) platforms and comes with Spectrum's quicComm™ software suite which includes drivers, API, FPGA interface libraries, and reference examples to enable developers to rapidly create their application and integrate their systems. Support for the Software Communications Architecture (SCA) is also available through Spectrum as a software option.
Call us today at 1.800.663.8986 or email sales(at)spectrumsignal(dot)com to order. For more information, visit http://www.spectrumsignal.com.
ABOUT SPECTRUM SIGNAL PROCESSING BY VECIMA
Spectrum Signal Processing designs and builds board and system-level hardware solutions for demanding signal and video processing applications. Spectrum combines high-performance data acquisition (RF, analog and digital I/O) and reconfigurable signal and video processing hardware with its best-in-class support and engineering services to enable customers to rapidly develop and then deploy their products and systems. Spectrum has worked with both commercial and military customers worldwide to develop and deliver solutions optimized for Intelligence, Surveillance and Reconnaissance (ISR), video, military (MILCOM) communications and satellite communications (SATCOM) markets. For more information on Spectrum and its products, please visit http://www.spectrumsignal.com. Spectrum is part of Vecima Networks Inc. and its products are designed and manufactured in Vancouver, British Columbia, Canada. See http://www.vecima.com for more information on Vecima.
FORWARD-LOOKING SAFE HARBOUR STATEMENT
Certain statements in this press release may constitute forward-looking statements within the meaning of applicable securities laws. All statements other than statements of historical fact are forward-looking statements. These statements include but are not limited to statements regarding management's intentions, belief or current expectations with respect to market and general economic conditions, future sales and revenue expectations, future costs and operating performance. These statements are not guarantees of future performance and involve risks and uncertainties that are difficult to predict, and/or are beyond our control. A number of important factors could cause actual outcomes and results to differ materially from those expressed in these forward-looking statements. These factors include, but are not limited to, the current significant general economic uncertainty and credit and financial market volatility and the distinctive characteristics of Vecima's operations and industry and customer demand that may have a material impact on, or constitute risk factors in respect of Vecima's future financial performance, as set forth under the heading "Risk Factors" in the Company's Annual Information Form dated September 28, 2012, a copy of which is available at http://www.sedar.com. In addition, although the forward-looking statements in this press release are based on what management believes are reasonable assumptions, such assumptions may prove to be incorrect. Consequently, readers should not place undue reliance on such forward-looking statements. In addition, these forward-looking statements relate to the date on which they are made. Vecima disclaims any intention or obligation to update or revise any forward-looking statements, as a result of new information, future events or otherwise, except as required by law.
Product and company names mentioned may be trademarks and/or registered trademarks of their respective holders.