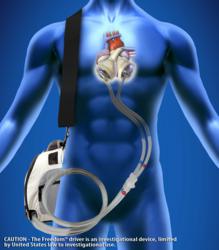 New York, NY (PRWEB) October 25, 2012
The first patient in the metropolitan New York area to be discharged with a Total Artificial Heart left The Mount Sinai Medical Center today. Twenty-eight-year-old Daquain Jenkins, who is awaiting a heart transplant, was implanted with the SynCardia temporary Total Artificial Heart in August. By relying on a mobile power supply that he carries in his backpack, Mr. Jenkins is able to leave the hospital until a suitable donor heart is found.
Mr. Jenkins is part of an FDA-approved Investigational Device Exemption (IDE) clinical study that is examining the Freedom® portable driver, a 13.5-pound wearable power supply for the total artificial heart. The portable driver provides enough power for the heart to last up to three hours from batteries before being recharged using an outlet or car charger. Patients receive an extra set of batteries for longer excursions.
In August, Mr. Jenkins was on the urgent list for a heart transplant and deteriorating rapidly. The only option to save his life was the total artificial heart. The Mount Sinai team was experienced in the implantation of artificial heart pumps, but had not previously implanted this particular device.
Nonetheless, Anelechi Anyanwu, MD, Associate Professor of Cardiothoracic Surgery and Sean Pinney, MD, Associate Professor of Medicine (Cardiology), Co-Directors of Mount Sinai's Heart Transplant program, decided that Mr. Jenkins should undergo a total artificial heart implant at Mount Sinai as a life-saving procedure. A team was assembled and trained in two days, and the artificial heart flown in from Arizona.
Anelechi Anyanwu, MD, and David Adams, MD, Marie-Josée and Henry R. Kravis Professor and Chairman, of the Department of Cardiothoracic Surgery, and Marc Stone, MD, Associate Professor of Anesthesiology led a surgical team that implanted the artificial heart in an eight-hour procedure in which Mr. Jenkins' own heart was removed. Mr. Jenkins remained at Mount Sinai, recovering under the care of his cardiologists, surgeons and artificial heart device coordinators.
"We believed that the Total Artificial Heart was the only hope of saving Daquain's life, and as part of Mount Sinai's commitment to providing the best care for our patients, we made sure he got it," said Dr. Anyanwu. "The portable driver will help him maintain his quality of life as he will be able to go home, enjoy being with his kids, and resume his activities of daily living."
Wayne Keathley, President and Chief Operating Officer of The Mount Sinai Hospital, said, "We are committed to bringing state-of-the-art care and therapies to our patients and to advancing the frontier of medical knowledge. This is but one example of Mount Sinai's leadership in cardiovascular care and research."
Mr. Jenkins was diagnosed with congestive heart failure at age 25, when he went to the doctor near his home in Monticello, N.Y. complaining of symptoms of pneumonia. His father had died of heart failure at age 28. Mr. Jenkins started on medical therapy, which worked for a year before he started having symptoms again. He had a pacemaker and a defibrillator implanted at a local hospital, but his condition continued to worsen.
When a local cardiologist recommended he come to Mount Sinai for treatment, Dr. Ajith Nair, Assistant Professor of Medicine (Cardiology) at The Mount Sinai Medical Center, evaluated him and recommended he undergo heart transplantation. In April 2011, he had a heart transplant at Mount Sinai, but his body rejected the heart after a year. Because both sides of the donor heart were failing rapidly, and he was ineligible for a left ventricular assist device—a type of mechanical heart pump that is more commonly used to support left side heart failure.
"Daquain has recovered remarkably well from his surgery," said Dr. Nair. "We are pleased to give him the opportunity to spend time with his family and continue his schooling while he waits for a donor heart."
Mr. Jenkins is grateful that the portable driver will give him the opportunity to walk his kids to the bus stop; a simple task he was unable to do when his first transplant failed.
"Dr. Nair and his colleagues changed my life," said Mr. Jenkins. "Without this device, I wouldn't be here. Now, I take everything life brings me with a smile."
Similar to a heart transplant, the SynCardia Total Artificial Heart replaces both failing heart ventricles and the four heart valves, eliminating the symptoms and source of end-stage biventricular failure. The exceptionally high volume of blood flow helps speed the recovery of vital organs, helping make the patient a better transplant candidate.
The Mount Sinai Medical Center is ranked among the world's leading centers for cardiovascular medicine, ranking 10th in the U.S. News and World Report "Best Hospitals" list for Cardiology and Heart Surgery. It offers advanced diagnostic and therapeutic technologies to care for heart patients of all ages —from before birth to the end of life—while serving one of the most diverse patient populations in the world. Our Department of Cardiothoracic Surgery has expertise in every major area of cardiothoracic surgery, with surgeons performing procedures to correct a wide variety of congenital and acquired cardiac abnormalities in adults and children. Our Advanced Heart Failure and Mechanical Circulatory Support Program offers a comprehensive range of innovative and advanced therapies for end-stage heart failure.
CAUTION - The Freedom® portable driver is an investigational device, limited by United States law to investigational use.
About The Mount Sinai Medical Center
The Mount Sinai Medical Center encompasses both The Mount Sinai Hospital and Mount Sinai School of Medicine. Established in 1968, Mount Sinai School of Medicine is one of the leading medical schools in the United States. The Medical School is noted for innovation in education, biomedical research, clinical care delivery, and local and global community service. It has more than 3,400 faculty in 32 departments and 14 research institutes, and ranks among the top 20 medical schools both in National Institutes of Health (NIH) funding and by US News and World Report.
The Mount Sinai Hospital, founded in 1852, is a 1,171-bed tertiary- and quaternary-care teaching facility and one of the nation's oldest, largest and most-respected voluntary hospitals. In 2011, US News and World Report ranked The Mount Sinai Hospital 14th on its elite Honor Roll of the nation's top hospitals based on reputation, safety, and other patient-care factors. Mount Sinai is one of 12 integrated academic medical centers whose medical school ranks among the top 20 in NIH funding and US News and World Report and whose hospital is on the US News and World Report Honor Roll. Nearly 60,000 people were treated at Mount Sinai as inpatients last year, and approximately 560,000 outpatient visits took place.
For more information, visit http://www.mountsinai.org/.
Find Mount Sinai on:
Facebook: http://www.facebook.com/mountsinainyc
Twitter: @mountsinainyc
YouTube: http://www.youtube.com/mountsinainy
###