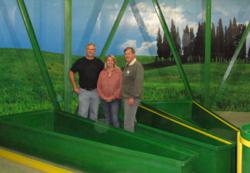 "The installation of Clear Flow Aquaponic Systems in an underground setting at the Survival Condo is a great example of the potential to use aquaponic technology to provide fresh fish and vegetables in nearly any environment."
Montello, WI (PRWEB) October 30, 2012
Nelson and Pade, Inc., the world's largest and most experienced provider of aquaponic systems and technology, has designed, built and installed a unique underground aquaponic system at the Survival Condo in Glasco, Kansas. The Clear Flow Aquaponic Systems® will be used to grow fish and vegetables in a sustainable, soilless environment.
The Clear Flow Aquaponic Systems® will produce a continuous supply of fresh fish and a variety of vegetables including lettuce, herbs, tomatoes, beans, peas, peppers, cucumbers and more. Aquaponics is an integrated system in which the fish waste provides the fertilizer for the plants and the plants help to purify the water for the fish. It is a soilless farming method that does not require the use of pesticides, herbicides or chemical fertilizers. Full spectrum LED grow lights will be used to provide adequate levels of light for the plants. The lights will turn on and off automatically, to mimic natural sunlight.
The Survival Condo is an engineering marvel designed for comfortable long-term survival in a former Atlas missile silo. It offers spacious condos with many amenities including luxury living space and a community swimming pool, dog walking park, rock climbing wall, theater, general store and an aquaponic farm, among other features, all of which are underground and encompassed by walls that are 2.5 – 9 feet thick. The aquaponic systems fill two floors of what was formerly the control center and will provide a continuous supply of fresh, all natural fish and vegetables to the condo owners.
The Atlas missile silo, which was built in the 1950's as part of the US and the Soviet Union's "mutual assured destruction" doctrine, will now provide protection and safety in the face of a natural or man-made catastrophe. The Atlas missile program was decommissioned in the 1960's. The missiles were then removed from the silos and used in the US space program and to launch satellites. The silos were abandoned and some of them were later sold.
One of the silos in rural Kansas was purchased by Larry Hall, the founder and developer of the Survival Condo. Five years ago, Mr. Hall conceived the idea to use the underground infrastructure to provide shelter and has been working tirelessly to design, engineer and build the 7 floors of condos, all circular in design inside the Atlas silo, and to integrate components to provide energy, security, air filtration and food. The total occupancy will be 50-60 people, all of which will live in and participate in the operation of the facility when in lock-down status.
John Pade, co-founder of Nelson and Pade, Inc. and designer of Clear Flow Aquaponic Systems®, comments, "Aquaponics is a viable and sustainable food production system. The installation of our system in a underground setting at the Survival Condo is a great example of the potential to use aquaponic technology to provide fresh fish and vegetables in nearly any environment."
Nelson and Pade, Inc., the leader of the aquaponics industry, offers complete aquaponic systems, consulting and extensive training programs. Clear Flow Aquaponic Systems® by Nelson and Pade, Inc. are very efficient and dependable and are available in all sizes for applications such as home food production, commercial ventures, education and social programs. Nelson and Pade, Inc. has had individuals from 28 countries and 49 US states attend their Aquaponics and Controlled Environment Agriculture Course and they have co-developed the first-of-its-kind aquaponics course with the University of Wisconsin-Stevens Point. For more information on aquaponics and Nelson and Pade, Inc., visit: http://www.aquaponics.com or call 608-297-8708.
The Survival Condo has been featured on the Discovery Chanel, ABC News, Fox News and in many other media outlets including the New York Times and Popular Science. For more information, visit: http://www.survivalcondo.com