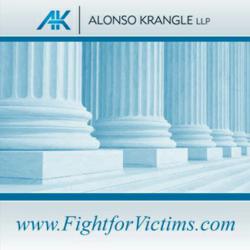 Alonso Krangle LLP is a law firm focused on the safety. if your child has been effected by Magnetic Balls call Alonso Krangle today at 1-800-403-6191
New York, NY (PRWEB) October 26, 2012
The U.S. Consumer Products Safety Commission (CPSC) is currently working towards getting powerful magnetic toys, which are geared towards being adult office decorations, off the market due to about 1,700 reports of children and teens swallowing these balls and requiring emergency medical care. Sold in packs of at least 100 and first marketed in the U.S. in 2008, these magnetic balls are manufactured by 13 different companies, with some of the more popular brands being Buckyballs, Zen Magnets and NeoCube. The magnets, which are made of the mineral neodymium, are more than 15 times more powerful than traditional magnets; when children swallow more than one of these, the magnets can tear through the stomach and intestines within hours and have an effect that many medical professionals have likened to low-powered shrapnel injuries. [ http://news.consumerreports.org/safety/2012/10/doctors-say-magnetic-balls-caused-dozens-of-injuries-in-past-two-years.html
At Alonso Krangle LLP, we understand how horrific it can be for parents to have their children be seriously injured as a result of dangerous toys, nursery products and playground equipment. Our child product liability lawyers are dedicated to representing your child's rights, and we have the experience and legal knowledge to aggressively litigate against even the biggest corporations. While we know that no amount of money can ever compensate your family for life-long injuries your child may have sustained, we can help you secure a settlement to help pay for future medical bills, as well as your family's mental anguish. We offer free consultations to families with injured children and can provide them with experienced legal advice regarding their best options for moving forward.
According to a survey conducted by the North American Society for Pediatric Gastroenterology, Hepatology and Nutrition (NASPGHN), more than 200 cases of swallowing magnetic balls have occurred within the last 12 months. While about 80 percent of all cases of children swallowing magnetic balls required endoscopy or surgery, in the worst cases, portions of children's bowels had to be removed, which can result in life-long health problems. [ http://www.consumerreports.org/content/dam/cro/news_articles/health/Oct%2023%20NASPGHAN%20Magnet%20Survey%20Press%20Release.pdf
Although warnings on packaging for these magnetic balls have been strengthened to specifically state that this product is only intended for use by individuals who are 14 or older, the spike in cases of swallowing these balls over the past year has led many medical professionals to believe that these warnings are ineffective. They have, as a result, advocated that the CPSC try to ban sale of these products in the U.S. altogether. Eleven of the 13 manufacturers have agreed to stop selling them; however, Maxfield & Oberton, the maker of Buckyballs, is refusing to do so and has launched a public campaign to try to stop the CPSC's ban. [ http://www.getbuckyballs.com/safety/ Consumers have until November 19, 2012 to voice their opinion to the CPSC, and the NASPGHN is strongly urging them to stand up to Maxfield & Oberton by advocating that these magnetic balls no longer be sold in the U.S.
About Alonso Krangle LLP
Andres Alonso and David Krangle, attorneys with almost 40 years of collective legal experience, have focused their law practice on the handling of significant child product liability cases, as well as personal injury cases, defective drug and medical device litigation, construction site accidents, nursing home abuse, medical negligence and consumer fraud cases. A leading law firm representing injured victims throughout the U.S., Alonso Krangle LLP is headquartered in Long Island, New York, with offices in New York City and New Jersey. Visit us on our website http://fightforvictims.com/child-product-liability-injury-lawsuits
Contact:
Alonso Krangle LLP
445 Broad Hollow Road Suite 205
Melville, New York 11747
Toll-FREE 1-800-403-6191
Tel: 516-350-5555