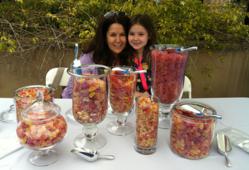 "I go to my daughter's school and notice that so many children have candy in their lunch boxes that's full of dyes, chemicals, toxins, and more," Piper says. "We offer the alternative."
Los Angeles, CA (PRWEB) October 26, 2012
Ginger Taurek is making a difference in the world. At 7 years old, she owns The Organic Candy Factory, a candy company that manufactures a full line of sweet, healthy confections entirely from organic ingredients. The company began with a dream when Ginger approached her mother, Piper Cochrane, and said she would like to open a candy store. "I loved the idea," Piper says. "But I told her it had to be an online store and the candy had to be organic. From there, we made it happen. We had our launch party at Fred Segal, and it's been a hit ever since!"
For Ginger, The Organic Candy Factory is about more than just delicious candy. The company donates a portion of its revenue to Hope North, a community in Uganda that houses and educates hundreds of refugees, orphans, and former child soldiers. Actor Forest Whitaker is a leading advocate and mentor for Hope North; his wife, Keisha Whitaker, sampled some of The Organic Candy Factory's creations at the launch event and loved them.
Ginger's selfless mission and healthy, high-quality products have caught the attention of celebrities including Ben Affleck, Kelly Preston, Hank Azaria, and Bella Thorne. The Organic Candy Factory has become a local favorite at celebrity events and non-profit functions.
Ben Affleck recently invited The Organic Candy Factory to cater a candy buffet at his charity poker tournament to support the Eastern Congo Initiative Foundation, a non-profit organization providing developmental aid and international advocacy to the Democratic Republic of Congo. In addition, The Organic Candy Factory provided an array of treats for Hank Azaria's Back to School Movie Night, a charity event to raise funds for local non-profit Determined to Succeed. The candy was a huge success at both events.
According to Piper, The Organic Candy Factory is on a mission to help keep kids healthy. "I go to my daughter's school and notice that so many children have candy in their lunch boxes that's full of dyes, chemicals, toxins, and more," Piper says. "We offer the alternative."
Ginger's candy is manufactured entirely in the USA, using only organic, toxin-free ingredients sourced from around the nation and brought together at a local confectionery. The candy is gluten-free, pesticide-free, gelatin-free, preservative-free, and contains no artificial colors, flavors, sweeteners, nuts, or tree nuts. It's also classified as vegan. In addition, the bags in which the candy is served are 100% biodegradable.
This past weekend, The Organic Candy Factory provided the candy for Disney actress Bella Thorne's 15th birthday party, where it was enjoyed by attendees, included in gift bags, and mentioned on Twitter by Bella herself. For Ginger and Piper, each event is another opportunity to help make the world a better place by promoting healthy, organic food and good causes. Learn more about The Organic Candy Factory at OrganicCandyFactory.com.