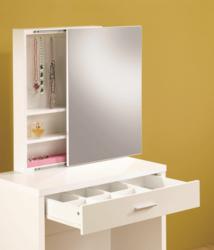 This is an exciting time for VanityTableShop with a huge array of elegant and affordable vanity tables
Orange, CA (PRWEB) October 29, 2012
VanityTableShop, one of the world's specialized vanity table internet retailers, today announced plans to make buying a bedroom vanity table easier and more affordable with the introduction of black Friday discounts beginning on Halloween night. The discounts introduced include $20.00 off any vanity table using coupon VT20 and a 7% discount on any dressing table sold value over $799, starting October 31st customers can pre-order the latest makeup vanity tables and dressing tables.
"This is an exciting time for VanityTableShop with a huge array of elegant and affordable vanity tables," noted company spokesperson Tony Ashford. With our extensive selection, VanityTableShop makes it easier for customers to find the item they are looking for as well as taking advantage of the pre-holiday specials offered.
Besides the great pricing, all vanities sold are offered with free shipping within continental US, as well as using FedEx and UPS exclusively to ship and deliver packages in a timely manner.
The latest, highly crafted line of makeup tables will be sure to enhance any bedroom or dressing area décor. In addition, it's a great station for displaying photos, favorite perfumes and various cosmetics.
Among the latest releases are Taylor glossy cappuccino vanity desk set, Katherine white chrome glass dressing s, Tilly cherry makeup vanity table set, Taylor white vanity desk set, and Kelly white vanity table set from major brands offered are Powell Furniture, ACME furniture, Furniture of America, and Coaster Furniture.
VanityTableShop customers nationwide can begin to take advantage of the great offerings as early as Halloween and begin to receive them ten days later. VanityTableShop associates have undergone extensive training sessions to get familiarized with the new product line to assist in answering customer's questions.
VanityTableShop.com is an Orange County, California based online retailer with close ties to major furniture manufacturers on both sides of the Pacific, which enables it to offer the consumer the latest trends in furniture at the lowest possible price.