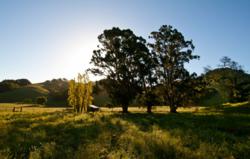 "Protection of these properties will benefit the water quality, wildlife habitat and recreational values of the upper Pajaro River watershed," said General Manager Andrea Mackenzie
San Jose, CA (PRWEB) October 26, 2012
On October 11th, the Santa Clara County Open Space Authority Board of Directors gave final approval to acquiring 120-acres on Canada Road in southern Santa Clara County. The property, owned by Santa Barbara Bank and Trust, is adjacent to the southerly border of the Authority's 702-acre property purchased in 2007, which will be enlarged to create an 822-acre open space preserve.
Purchase of the property by the Authority eliminates the potential development of three highly visible hilltop estate homes along Canada Road. Instead, the Authority will expand its future open space preserve to approximately 822 acres for watershed, wildlife habitat and public recreation and environmental education. Purchase of the property will allow the Authority to establish a public staging area and trail system that will provide sweeping views of the spectacular Diablo Range.
The 120-acre property lies within the Upper Pajaro River watershed and includes a tributary of
San Ysidro Creek. The property provides habitat for the California Tiger Salamander and California Red Legged-frog, two federally endangered species, and is part of a critical wildlife linkage connecting the Santa Cruz Mountains and the Diablo Range.
In 2007, when the Authority purchased the 574-acre property formerly known as the Doan Ranch, it had also sought to protect the adjoining three parcels from development, but the $3 million price tag was prohibitive. In May 2012, Santa Barbara Bank and Trust acquired the property through a foreclosure and the Authority was able to negotiate the purchase of the three parcels for $810,000.
"Our timing was just right to be able to purchase these properties for open space," said Andrea Mackenzie, General Manager of the Open Space Authority. "Protection of these properties will benefit the water quality, wildlife habitat and recreational values of the upper Pajaro River watershed."
The Authority plans to partner with the Natural Resource Conservation Service to prepare resource management plans and implement water quality improvements on the property prior to opening the preserve for public use.