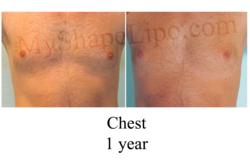 Now there is an affordable option to rid ones self of those "man boobs."
Las Vegas, NV (PRWEB) October 29, 2012
There are a lot more men plagued by gynecomastia than one might think. Previously, men either hid their problem and bottled up the embarrassment or had to go under the knife to get the glandular tissue removed from their chest. Surgical removal can cost upwards of $5000-$7000 and requires the dangers of general anesthesia as well as large scars. Now there is an affordable option to rid ones self of those "man boobs." The liposuction specialist at MyShape Lipo can now remove the glandular tissue along with fat to effectively reducing the bulge causing the appearance of breasts on men.
Gynecomastia is very common in adolescents and is caused by hormones as boys go through puberty. In most, this problem resolves when their hormones regulate around age 18-22 years old. Unfortunately, 2 of 13 men continue to have this problem throughout their life causing them to avoid pools or other situations due to embarrassment. These men have become very good at hiding their problem rather than addressing the cause.
Fortunately, there is a minimally invasive and affordable solution for men wishing to rid themselves of their embarrassment. Liposuction assisted by a laser can physically remove the tissue causing the bulge in the chest. The laser is used to break down the tough glandular tissue just under the nipple, while the liposuction canula can physically remove the tissue along with any fat in the area. The results, a flatter and more manly looking chest.
Liposuction of the male chest for removal of gynecomastia is a great option for those looking to avoid the dangers of general anesthesia. The procedure can be done in an office setting with only local anesthesia. The fees are significantly less than the surgical procedure, yet the results are comparable. One could even drive them self home after the procedure if one chooses.
MyShape Lipo is a liposuction specialty clinic located in Las Vegas. Laser assisted liposuction of the chest is offered at rates nearly 1/3 the national average. People are flying in from around the world for the specialty liposuction services and affordable rates. For a free phone or in person consultation call 702-818-5476 or visit them online at http://www.MyShapeLipo.com.