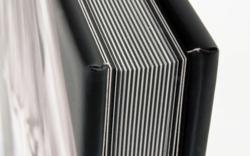 "Wedding Album or Wedding Photo Book", That is the Question..
Palo Alto, CA (PRWEB) October 30, 2012
BrideBox, a leading wedding album creation service offering a design platform and full range of albums for modern do-it-yourself couples, shares market data and experience on the question of "wedding albums vs. photo books" from the perspective of the landscape, quality, durability, and pricing
A question we at BrideBox are asked again and again is, "what is really the difference between a photo book and an album" says Bryan Passanisi the online marketing expert at BrideBox, with so many different new products flooding the marketplace and with such a large differentiation in pricing, it can become really confusing for the bride and groom.
But when it comes to wedding images, taking the wrong decision can be very painful, especially if 10 or 15 years from now you are left with memories fading and falling apart at the seam
To help navigate through the confusing landscape, BrideBox has compiled a detailed overview of the wedding photo albums and photo book market from the perspective of printing technology, binding, finishing and design capabilities, as well as pricing overview. This overview, titled "Wedding Album or Wedding Photo Book", That is the Question" is available on BrideBox blog. The overview not only gives interesting technical facts about wedding album and photo book options, but also samples and images to clearly demonstrate the differences and options.
This overview can save brides hundreds of dollars and also save them from potential disappointments when choosing their wedding album or photo book
About BrideBox
Bride Box is devoted to helping couples design their own wedding albums without sacrificing the top quality materials and photo finishing that mark a professionally produced album. BrideBox combines years of wedding photography expertise and a proprietary process that gives consumers access to products previously only available through photography professionals. The BrideBox line of wedding albums offers unmatched quality, combining the benefits of technology with the skills and individual attention of imaging professionals. BrideBox is a division of DigiLabs, Inc., a privately-held company that creates superior photo products available through professional photographers. Find BrideBox on Facebook at http://www.facebook.com/BrideBoxWeddingAlbums or for more information, go to http://www.BrideBox.com .