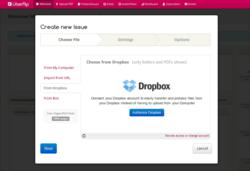 We love the Cloud, and just like our customers, we use services like Box, Google Drive, and Dropbox.
Toronto, Canada (PRWEB) October 26, 2012
Uberflip today announced its recent integration with Box and Dropbox. Users of the popular digital publishing SaaS platform can now upload PDFs directly from these third-party storage services.
"We want to be where our customers are," says Uberflip CEO Yoav Schwartz. "We love the Cloud, and just like our customers, we use services like Box, Google Drive, and Dropbox in our day-to-day work. It was a natural extension of our offering to provide our users with even more flexibility with how they can use Uberflip to enhance their documents."
Uberflip is primarily used by marketing and communications professionals, who leverage the service to enhance and share multi-page documents such as brochures, whitepapers, newsletters, magazines, and training guides. Uberflip's intuitive software enables professionals with minimal design and development skills to easy convert a PDF document into an interactive flipbook that works across desktop and mobile devices.
"We provide our customers with a great HTML5 solution that delivers stunning content to their audience; the same content that was once a boring PDF," adds Schwartz. "Also, our customers who work off mobile devices themselves can now upload documents directly from Box and Dropbox on their tablet or smartphone – an option that was not available to them prior to this integration."
This latest announcement comes on the heels of Uberflip being ranked in this year's PROFIT HOT 50, as well as being selected as one of Canada's top tech start-ups that will participate in the upcoming C100 48hrs in the Valley.
About Uberflip
Uberflip makes it easy to enhance, distribute and track PDF content on tablets and other devices. Within minutes, documents are converted into page-turning experiences where leveraging links, video and social media integration is just the beginning. The Uberflip Application allows marketers, publishers and other content creators to meet all distribution, security, monetizing and tracking requirements for their content. Uberflip's solutions help companies save costs and make money through new marketing channels. To see Uberflip first-hand, visit their monthly newsletter Going Digital.