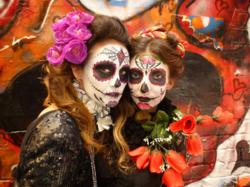 Melbourne, Victoria (PRWEB) October 26, 2012
The Day Of The Dead Festival has been celebrated throughout Mexico and other parts of the world for hundreds of years and it has finally been brought to Melbourne with the help of Mexican Ricardo Amare. During this week long festival family and friends gather to pray for and remember friends and family members who have died.
Now, finally in Melbourne, this festival will be celebrated in venues across town. To provide an authentic touch to the celebrations, venue staff and event organisers will be dressed completed in the original style of the festival hair and face paint.
Forever Flawless has been asked to provide all the mobile hair styling over the week long festival. This has included an album cover for 2 of Melbourne's up and coming female DJ's Juliet Fox and Lauren Mac. All the event brochures and photo shoots, as well as all the festival events.
Forever Flawless owner Caroline, was thrilled with the turnout on the opening night and is looking forward to seeing all the events over the week. Caroline took great pride in overseeing the event where her staff provided hair styling ,which worked in with the Mexican theme, and accessorizing all the females with the traditional red roses and other flowers though the hair. The team at Forever Flawless love providing new and exciting styles and being able to show their skills outside their bridal and commercial work.
The opening VIP event was held at New Market in St Kilda and they will also be holding a public event on the 31st October to celebrate the festival on Halloween night. "I always love exciting events that bring a lot of people together and when our team of hair and makeup artists are able to show off their skills it defiantly becomes a highlight to my extremely rewarding career" Says Caroline.
Forever Flawless has a team of aproximatly10 hair and makeup artists who each have over 10 years experience. Each work full time in the industry and between bridal jobs, commercial and fashion work they are kept extremely busy. Each artist and stylist is passionate about what she does and always provides an exceptional service. Caroline started Forever Flawless after years of working with agencies who were employing staff who didn't care about their work and after constant trouble due to being associate with these people, she started an agency where she guarantees 100% quality service. To learn more about Forever Flawless go to http://www.foreverflawless.com.au