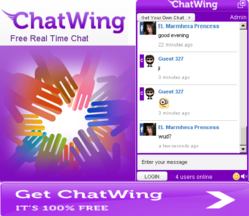 Boston, MA (PRWEB) October 26, 2012
Image embedding option is now the latest innovation brought by the Chatwing Development Team to its newly-released chat widget. Aside from the powerful feature, Chatwing also allows users to upload a single MP3 song link to help entertain visitors. In this latest chatroom version, users can also select from a wide spectrum of modification options. Colors, sizes, and widget parameters can now be set freely.
The background image feature is considered as one of Chatwing's epic milestones in the online arena. Few days after the beta release of the feature, many website owners and Chatwing users have already tried it out. According to the testers, the online visibility results were beyond expectations. "The background image soothes the eyes of the visitors. Since images appeal to everyone, I can now design a widget that can reach my goals easily," One of the early testers has said.
Embedding the background image takes only few seconds to accomplish. The user must go to his Chatwing dashboard and access the customization options. There, the user can select from Chatwing's collection of background images. More importantly, the user can now upload the image link of his desired background image. Any image is possible, as long as it is not profane or doesn't have copyrighted conflicts. Once uploaded, the free shout box will now display the image instantaneously.
The Chatwing Dev Team has currently mapped out new features that can make the Chatwing chatbox more reliable than ever. Additionally, platform upgrades are also necessary to cope with the growing influx of users. This fact mirrors the dynamic progress of free chatbox applications. Chatwing's developers are also gathering feedbacks and suggestions from hundreds of website owners and web surfers.
About Chatwing.com
Chatwing.com specializes in the new field of website chat. Over years, the Chatwing team has introduced live chat widget for hundreds and thousands of blogs. The Chatwing application bridges people from many parts of the world, creating global synergy through the Internet. The shout box can be installed in just seconds, and it can be used for varying purposes such as leisure and Internet marketing. It also allows a user to customize the size, color, and name of the widget. Chatwing is 100% free for everyone.