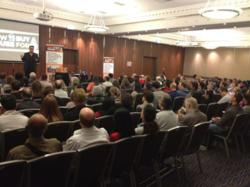 I'll spend eight hours showing people how these strategies work and we'll solve their house and funding problems using the strategies live at the event
(PRWEB) October 26, 2012
The JPMorgan Australian mortgage industry report reveals regulators are pushing for stricter standards from lenders as nearly 70 per cent of home refinance loan applications are being declined. This and the continuous rise in home prices create a huge hurdle for first homebuyers.
This is why property guru, Rick Otton, suggests property investing via installment contracts through a series of one-day training seminars throughout the country. In these training events, Otton will discuss more creative and innovative ways of buying a house without seeking bank financing.
Investing without Banks and Loans
"It's possible to buy property using little or none of your own money and without banks and loans. Creative property investment strategies such as using installment contracts are all about changing the processes of buying and selling property, creating opportunities for people, and solving house and financial problems while making money without bank financing and loans," Otton said.
According to Mr. Otton, installment contracts are for those who for some reason couldn't qualify for a loan. "Instead of seeking financing from banks and lenders, the seller will provide buyers with the loan but only gives them the equitable title, holding onto the legal title until the buyer has paid out the loan," Mr. Otton explained.
"Installment contracts are great because they allow time to pass, giving people the chance to let small credit impairments disappear off their credit history," Rick Otton added.
Teaching Creative Real Estate Strategies to Aussies
Mr. Otton has been continuously teaching his creative real estate strategies since 2001 and has helped improve the lives of thousands of individuals giving them the opportunity to own houses and create wealth from real estate with minimal risks.
S and M Donaldson, small business owners who recently went to Otton's training seminars have instantly used what they have learned. "We bought a property without a bank loan and transferred it to a family who are having problems getting a loan. We easily made $10,000 up-front deposit, $800 per month positive cash flow and backend profit of $70,000 without putting any of our own money," the Donaldson's said.
Bringing Creative Investment Strategies in Brisbane
Rick Otton is coming to Brisbane this year to teach creative real estate investment strategies and help Aussies buy houses without bank financing or loans. "I'll spend eight hours showing people how these strategies work and we'll solve their house and funding problems using the strategies live at the event," Otton said.
Get the details of Otton's visit to Brisbane – and learn how you could reserve for a free seat – at http://www.howtobuyahouseforadollar.com/register.
About Rick Otton
For more than 20 years, Rick Otton has been identifying undervalued assets in the real estate market, snatching them up and selling them to build wealth. Otton is the founder and CEO of We Buy Houses, an innovative property firm that has been successfully employing his strategies in the U.S., U.K., Australia and New Zealand.
Otton formulated his strategy in the early 90s and within his first year of real estate investing acquired a portfolio of more than 75 properties. Since then, Otton has made millions in the real estate market, generating huge profits with little risk to his own capital.
Today, Otton is teaching Aussies how to enjoy the same success he has had, buying and selling residential real estate without the debt, risk and reliance on bankers that plague many conventional real estate investors.
Otton has been featured on a variety of Australian TV shows, including an ABC documentary, Today Tonight, A Current Affair and Insight. In 2007, Otton was featured on Channel 9's Hot Property, and gave away a home.
In addition to his television appearances, Otton has also been profiled in publications such as Australian Property Investor, Lifestyle Trader and Your Property Network, among others. You can learn more about Otton and his innovative investment strategies by visiting http://www.rickotton.com.