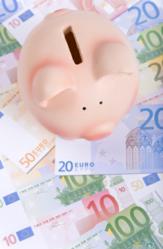 The problem for the eurozone is that bank stocks within the union have assets that continue to underperform. This creates a reduced incentive to increase lending and transactions that are needed to grow an economy
New York, NY (PRWEB) October 26, 2012
In a recent Investment Contrarians article, editor Sasha Cekerevac reports that recent analysis by management consultants regarding stress tests for bank stocks within the eurozone are showing more signs of concern for investors around the world. One of the biggest concerns is the eurozone's Spanish banking system, notes Cekerevac, as Spanish bank stocks have seen their bad loans increase as a percentage of total lending for 17 straight months.
"According to Bloomberg, bad loans went up 0.72% in 2006, and stood at a massive 10.5% in August," reports Cekerevac. "That is a shocking increase for bank stocks to deal with, considering the economy is still in decline."
The eurozone itself is experiencing massive economic difficulties, notes Cekerevac, and there appears to be little relief for bank stocks in that region over the short term. Citing Bloomberg, Cekerevac states that management consultant firm Oliver Wyman Group considered a decline of 6.5% in Spanish economic activity from 2012 to 2014 during its stress test.
"The problem for the eurozone is that bank stocks within the union have assets that continue to underperform. This creates a reduced incentive to increase lending and transactions that are needed to grow an economy," explains the Investment Contrarians expert. "Much like an individual who has taken on too much debt, bank stocks have less excess reserves to spend, and even less willingness to spend them."
But it doesn't end in Spain, states Cekerevac. He notes that Moody's recently issued a warning that bank stocks within Germany are susceptible to downgrades, due to rising risks within the eurozone, lower profits, and reserves too small to handle any shock to the financial system.
According to Cekerevac, the problem with German bank stocks is that they are inextricably tied to the economies of the weaker nations within the eurozone, including Spain and Italy. The increased interconnectedness with bank stocks around the world, and especially the eurozone, makes it difficult to properly evaluate the true risks involved, he reasons.
"Bank stocks have come a long way from the time when they would lend money to neighbors in a little community. In the new world of globalization, while there are massive rewards, there are also some risks," Cekerevac concludes.
To see the full article, and to get a real contrarian perspective on investing and the economy, visit Investment Contrarians at http://www.investmentcontrarians.com.
Investment Contrarians is a daily financial e-letter dedicated to helping investors make money by going against the "herd mentality."
The editors of Investment Contrarians believe the stock market and the economy have been propped up since 2009 by artificially low interest rates, never-ending government borrowing, and an unprecedented expansion of our money supply. The "official" unemployment numbers do not reflect people who have given up looking for work, and are thus skewed. They believe the "official" inflation numbers are also not reflective of today's reality of rising prices.
After a 25- to 30-year down cycle in interest rates, the Investment Contrarians editors expect rapid inflation caused by huge government debt and money printing will eventually start us on a new cycle of rising interest rates.
Investment Contrarians provides unbiased research. They are independent analysts who love to research and comment on the economy and investing. The e-newsletter's parent company, Lombardi Publishing Corporation, has been in business since 1986. Combined, their economists and analysts have over 100 years of investment experience.
Find out where Investment Contrarians editors see the risks and opportunities for investors in 2012 at http://www.investmentcontrarians.com.
George Leong, B. Comm., one of the lead editorial contributors at Investment Contrarians, has just released, "A Problem 23 Times Bigger Than Greece," a breakthrough video where George details the risk of an economy set to implode that is 23 times bigger than Greece's economy! To see the video, visit http://www.investmentcontrarians.com/press.