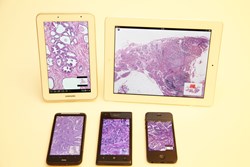 Viewing a whole slide image on a mobile device is far more intuitive.
(PRWEB UK) 26 October 2012
This is the first imaging application for Whole Slide Images (WSI) that is natively supported on all the mobile platforms. It is hoped that this application will further promote increased use of whole slide images in routine, research and training within pathology. Supporting smooth multi-touch panning and zooming, it is a much more intuitive way to explore large images than using a PC and a mouse.
Originally Interpath was released on the iPhone, then when it was available the iPad, both just days after the hardware became available. Today keeping with the commitment to continue to develop the application and to support other platforms it is pleased to announce that the application is now more widely available and on all mobile platforms.
The viewer is only part of the story when it comes to whole slide imaging. A hardware device is required to scan the slide and a server to host the huge images which are thousands of mega pixels in size (can be greater than 50,000 mega pixels). Interpath natively supports the servers of the two leading WSI scanning companies (Hamamatsu and Aperio). Also a number of other scanners and image formats are supported via Room4's server application. The application does not require any pre-processing of the images and can be installed on a standard PCs (both Windows server and desktop operating systems are supported).
Now with the client being available on all mobile platforms Room4 are actively exploring other application areas outside of pathology where large images are used for data exploration and analysis. Situations where there is the need to remotely view massive images in real time using a mobile device.
There are developments in progress to also extend the application to allow it to be used for image analysis in Pathology, incorporating and extending Room4's existing quantative analysis application Immunopath.
This work has been completed in collaboration with the Institute of Medical Informatics, Radium Hospital (Oslo, Norway).