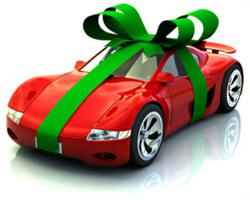 It's one of those rare opportunities that you know they'll feel loved and appreciated thanks to this very thoughtful and unique gift.
MIAMI, Florida, (PRWEB) October 26, 2012
October 26, 2012 –Prestige Luxury Car Rentals is making it possible for more people to give the gift of a world-class supercar to a loved one this year, even if it's just for a few days, or a few weeks. Prestige announced today the availability of Christmas gift certificates that can be redeemed for the use of a Lamborghini, Ferrari, Jaguar or any one of its seductive fleet of dream cars that most people only dream of driving.
The idea of gifting an exotic luxury or sports car – or the temporary use of one, anyway – is not a new one, as Xylina Roman, Business Development Manager for Prestige Luxury Car Rentals points out. Customers have "gifted" world-class rides to their husbands, wives, and significant others in the past as a fun and exciting birthday or anniversary surprise.
"We had one client who rented a Ferrari as a surprise for her husband on his 30th birthday," Roman says. "When she asked him what he would like for a birthday gift, he remarked that she wouldn't be able to get him the Ferrari he really wanted.
"That remark got her thinking of her options, and she called us."
Prestige arranged delivery of a crimson Ferrari F430 to the couple's home on his birthday, where it was waiting for him when he returned from a business trip.
"She told us she handed him a little red model Ferrari when she picked him up at the airport and said "happy birthday," then saved the real surprise until he got home," Roman says.
"It went over perfectly, he couldn't have been more excited."
Since it won't be possible for everyone to have a vehicle from the Prestige Fleet sitting in their driveway on Christmas morning, Roman suggests attaching the gift certificate to a toy-sized replica of the lucky recipient's dream car to place under the tree. The certificate can then be redeemed at any time in the future, when it best suits the receiver.
For the woman who wants to impress her high school friends at an upcoming class reunion, or the man who has always dreamed of pulling up to his workplace in a Porsche convertible or Rolls Royce Shadow, the opportunity to drive the vehicle of a lifetime at the most advantageous time is golden. Most of the time, Roman says, the gift giver is as excited as the receiver.
"When you care about someone and you know this is something they have always dreamed of, it's one of those rare opportunities that you know they'll feel loved and appreciated thanks to this very thoughtful and unique gift."
Roman says that the company may expand its gift certificate promotion to accommodate birthdays, Valentine's Day, and other special occasions. In the meantime, the staff at Prestige will be playing Santa for the next eight weeks, helping customers plan their holiday surprises with a gift certificate for the drive of a lifetime.
Gift certificates are available at Prestige showrooms in Miami, Orlando, and Atlanta.
For more information, visit the Prestige Luxury Car Rentals website, visit the Prestige Facebook Page, or call 1-305-513-9711 (or toll-free 1-888-513-9711).
About Prestige Luxury Car Rentals:
Since 2004, Prestige Luxury Car Rentals has been providing exotic luxury vehicles to customers seeking the ultimate car rental experience. Prestige's professional staff all share a genuine passion for the world's finest automobiles, and that passion translates to superior customer service with every rental. Making sure customers have fun and relish their dream car adventure is top priority.
In addition to its Miami base, Prestige Luxury Car Rentals has expanded its showroom locations to Orlando and Atlanta. The Orlando location services Northern and Central Florida, and the Atlanta branch services North Carolina, South Carolina, Tennessee and (with some limitations) New Orleans. All three locations offer a fleet of exotic luxury and sports cars including Aston Martin, Audi, Bentley, BMW, Cadillac, Corvette, Ferrari, Hummer, Jaguar, Lamborghini, Land Rover, Maserati, Mercedes Benz, Mini Cooper, Porsche and Rolls Royce.
###