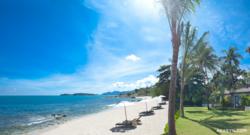 Bangkok, Thailand (PRWEB UK) 28 October 2012
Tie the knot in luxurious style on the most auspicious day of the year – 12 December 2012 – as Thailand's pioneering boutique resort group, Akaryn Hospitality Management Services (AHMS), invites couples to bid on its exclusive auction to host their weddings at one of its spectacular resorts.
Inspirational dream weddings can be held at all four of its outstanding resorts – the two charming and inviting five-star properties of the Aleenta Resorts & Spas brand, Aleenta Phuket Phang-Nga and Aleenta Hua Hin-Pranburi, and two of Koh Samui's most sought-after resorts, the chic, romantic retreat of akyra Chura Samui and the newest addition to AHMS' exclusive portfolio, AKARYN Samui, a resort built on intuitive luxury.
So popular is this offer that the bid has already been won at Aleenta Hua Hin-Pranburi, and the weddings at the three remaining resorts are likely to be snapped up quickly – there's no time to lose.
Turn left out of Phuket airport and discover Aleenta Phuket-Phang Nga, where uniquely designed suites, pool villas and private beachfront villas create the ultimate romantic setting. Ocean views are ubiquitous, as is Aleenta's concept of 'Outside Living – In' so wedding parties will experience nature's charms alongside all the rewards of a five-star resort.
The bride and groom will stay for three nights in Villa Satis – part of the exclusive collection of private villas at APH – and is the epitome of luxury. Where better to start married life than in a 1,000sqm open-plan, four-bedroom villa with large swimming pool and expansive outdoor lounge area that leads to a secluded stretch of beach on the incredible sands of Natai.
The lucky winners will also enjoy a luxurious return airport transfer, a romantic ceremony for up to 24 guests, a master of ceremony, bouquet and corsage for the bride and groom, a photographer to capture every special moment, plus the unique chance to release a turtle back into the wild – a truly memorable experience.
If the tropical island of Koh Samui is your choice of romantic backdrop, bid for the amazing wedding offer at the sophisticated AKARYN resort. The newlywed couple will spend one night in the beachfront Honeymoon Pool Suite. Looking out over the dazzling white sands of the tranquil Hanuman Bay, everything from the spacious, open-plan design to the exclusive 430-count Egyptian cotton bedding and thoughtful touches convey luxury with you in mind.
Choose from a ceremony for up to 20 guests or let the resort tailor-make the ceremony so it is just the two of you; the winners will also be given a master of ceremonies and sound system for the ceremony, a bridal bouquet and corsage for the groom, a photographer for four hours, make-up and hair styling for the bride, a bottle of Champagne, a wedding cake for up to 20 guests and an hour-long couple's spa treatment.
But hurry to win this fantastic offer; the current bid stands at THB100,000. Special group rates are also available on accommodation should the winner wish to have more than 20 guests.
Situated in one of the world's most romantic hotspots, Koh Samui – the perfect location for love to flourish – the beautifully appointed akyra Chura Samui is tucked away on the quiet, breathtaking stretch of the beach at Chaweng Noi. Effortlessly blending contemporary hospitality with expressive style and individualism, the bride and groom will stay for a night in one of the elegant rooms that mix understated luxury with Asian chic, in addition to embracing a comfortable outdoors ethos, in-keeping with the resort's passionate, spirited style.
The winner of this bid, which starts from THB 44,000, will also receive a complimentary bottle of house Champagne on arrival as well as a couple's spa treatment, a tailor-made 'Just For Two' wedding, bouquet for bride and corsage for groom, photographer for four hours, make up and hair for the bride, Master of Ceremonies, sound system for the ceremony, and a wedding cake for two.
Minimum bid price for these dream weddings starts at THB90,000++ – although for two people only the bid for the akyra wedding starts at THB44,000. Food and beverage is not included in the auction price and all bids must be sent the managers of each resort.