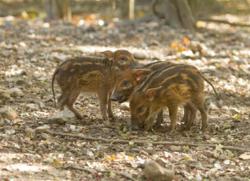 Visitors will easily be able to spot them charging around and causing trouble - they're very entertaining!
(PRWEB UK) 26 October 2012
A trio of red river hoglets have made their debut at The Aspinall Foundation's Howletts Wild Animal Park, near Canterbury, in time for October half term. The playful trio have been spotted snuffling, romping and cavorting through the autumn leaves in their enclosure.
The wild animal park, which works with The Aspinall Foundation - a world leading conservation charity, is open 364 days a year and is home to some of the most rare and endangered species on the planet.
Head Hoofstock Keeper, Joel Bunce said: 'The hoglets are very playful with each other and the rest of the group – visitors will easily be able to spot them charging around and causing trouble, they're very entertaining!'
Red River hogs are found across the West and Central African rainforest belt. This distinctive looking pig is Africa's equivalent of the Eurasian wild boar. Although it is currently relatively common in its range this distinctive species is sadly in decline due to hunting for meat and persecution by farmers who view the hogs as a pest species due to their habit of raiding crops.
Joel said: 'Red River hogs are strong, intelligent and adaptable animals and in my opinion, one of the most attractive of all wild pigs.'
Visitors to the wild animal park this autumn half term will be able to see the hoglets growth and development over the next few weeks and months when they take advantage of the Passport offer, the great value ticket that lasts all year.
For more information regarding Howletts Wild Animal Park including opening times, entry fees and special half term events, please visit http://www.aspinallfoundation.org
Editor's Notes
The Aspinall Foundation's Port Lympne and Howletts Wild Animal Parks in Kent were set up by the late John Aspinall to be centres of excellence for animal husbandry within which to protect and breed threatened species, with a view to returning them to the wild wherever possible.
The Aspinall Foundation is a world leading conservation charity dedicated to keeping John Aspinall's innovative conservation ethos alive leading the way through education, captive breeding and reintroduction. The Aspinall Foundation has projects both in the UK and overseas, including Java, Madagascar, Congo and The Gabon. Working in conjunction with the parks, The Aspinall Foundation has so far returned to the wild Przewalski's horses, black rhino, Cape buffalo, Burmese pythons and western lowland gorillas.
Howletts and Port Lympne Wild Animal Parks have been awarded Best Leisure and Tourism Business in the 2012 KEiBA Awards