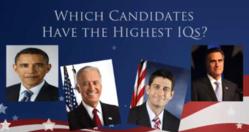 Biden might gaffe a lot because he speaks off the cuff, but the...caricature of Biden is not close to the truth.
San Diego, CA (PRWEB) October 26, 2012
The President holds a distinct advantage with would-be voters when asked "Which Candidate for President do you think has the higher Intelligence Quotient?" Participants picked Obama above Governor Romney by a 3-1 margin, 74-26 per cent.
Check out the Online Video along with Complete Results and Graphs Here
Oddly, twenty-seven per cent of individuals who selected him stated it is mainly because Obama is a Harvard graduate, apparently not aware that Romney is also a Harvard graduate. Considering this, FunEducation performed an additional study which prefaced the previous query with: "Knowing that Obama obtained a Juris Doctor from Harvard and Romney obtained a Juris Doctor and Master of Business Administration from Harvard..."
Once the audience recognized the two contenders' Harvard qualifications, the final results ended up closer, with Romney trimming Obama's lead to a 3-2 margin, 60-40 per cent. A participant who picked Obama said: "The way Obama speaks and what he says leads me to believe he is more intelligent than Romney."
With our poll to determine which of the Vice Presidential candidates has the greater IQ, one person believed: "Biden might gaffe a lot because he speaks off the cuff, but the man knows his policy. The caricature of Biden is not close to the truth." Indeed, according to the results, Biden does possess a higher perceived Intelligence Quotient; with Biden beating Ryan nearly 2-1, at 64-34 per cent.
Of course, one of the most accurate ways to measure intelligence is with a certified IQ test, according to Jonathan Paul, CEO of FunEducation. "But unless the candidates provide their results from such an instrument or a law school admissions test that correlates with an intelligence test, we can only speculate as to which candidates have the edge in IQ," said Paul.
METHODOLOGY – The FunEducation poll was conducted by Internet survey on Oct. 20, 2012, among a random national sample. The typical demographic profile of a respondent is a white male, aged 32, with a college degree and approximately $30,000 in annual income.
What is your opinion? Go ahead and take the poll and tell us which candidates you believe have the higher IQ.
FunEducation, Inc. is a leading provider of intelligence, personality and career testing services. Since launching its first online IQ test in the year 2000, tens of millions of users have discovered their intelligence quotient with our online assessments. Our IQ Test for Kids is the premier instrument to assess the verbal and spatial intelligence of children from age 6 to 16 without the need for a clinical psychologist to administer the children's IQ test.
For more information about the poll, go to http://www.funeducation.com/presidents-IQ/