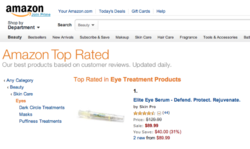 The ingredients Elite Serum's incorporates into the eye serum are all highly praised, well respected peptides with clinical studies to prove their claims.
New York, NY (PRWEB) October 29, 2012
Eyecream.com is a top rated eye cream research and review portal on the web. The website is written and maintained by an experienced and highly trained group of health & wellness professionals, with guest contributions from ordinary people who are concerned with looking younger and eager to share product reviews. Eyecream.com is intended to be an interactive portal where consumers can learn, interact, ask questions, and post their own reviews. The primary focus of eyecream.com is to provide consumers with information relative to subjects such as ingredients, recently launched eye cream products, "How To" articles involving eye creams, eye cream videos, home remedies for eye symptoms and product reviews and analysis. Another main focuse of eyecream.com is to provide consumers with feedback of top rated eye creams.
The anti-aging skin care market is among the fastest growing segments of the health & beauty sector. Eye Creams are a key component in facial rejuvenation and anti-aging. They can help to slow down the appearance of aging by providing both instant and long-term results. While this market sector continues to grow, Eyecream.com will continue to be the leading source of eye cream reviews & research. Each year, eyecream.com sets out to present consumers with the Best Eye Cream. After months of testing hundreds of products, including department store, drug store and boutique eye creams, eyecream.com is pleased to announce the winner. The award of the 2012 Best Eye Cream goes to a boutique serum called Elite Serum.
Elite Serum is an anti-aging topical eye serum created by cosmeceutical company SkinPro. SkinPro, based in Miami Fl, first launched their flagship product, Elite Serum, in 2009. Elite Serum contains an impressively long list of anti-aging peptides, including Argireline, an anti-aging peptide recognized and praised by Dr. Oz. Dr. Oz devoted a whole segment to anti-aging earlier this year and praised the use of Argireline in eye creams and serums.
Eyecream.com goes to great lengths to determine which product earns the prestigious title of "Best Eye Cream." The staff researches aspects such as ingredients, the facility in which the product is manufactured, the company behind the product and whether or not the product is tested on animals. Elite Serum impressed on all levels. Gayle Saunders, contributing editor to eyecream.com, who is also a world traveler and self proclaimed health nut, couldn't contain her affinity for Elite Serum during a recent interview. "We spent months researching the various components of what make a great eye cream. Elite Serum exceeded expectations on all levels. The anti-aging ingredients that Elite Serum incorporates are all highly praised, well-respected peptides with clinical studies to back their claims. With the controversy of skin care products that are imported from China, we were ecstatic to learn that Elite Serum is manufactured in a world class facility here in the US. The facility is subject to random inspections by the State of Florida. The lab itself is ISO9002 certified and the staff of Elite Serum is trained on all FDA rules and regulations. The products are chemical free and are not tested on animals. Those factors combined with the results our team experienced while using Elite Serum made choosing the Best Eye Cream a unanimous decision. The appearance of fine lines were diminished and dark circles and under eye puffiness nearly vanished. We concur with SkinPro's statement that 'Elite Serum is not your mother's department store bought eye serum.' We are happy to endorse Elite Serum."
Clinical studies show that eye serums containing Argireline can reduce wrinkle depth by up to 32% after 28 days of consecutive use, twice daily. Respectively, Haloxyl, another anti-aging peptide found in Elite Serum, can counteract under eye puffiness by increasing lymphatic drainage by 70%, while reducing dark under eye circles by up to 600%.
Detailed results of clinical studies and Before and After photos can be viewed on Elite Serum's web page.