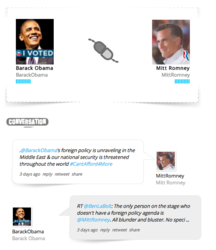 (PRWEB) October 26, 2012
Barack Obama and Mitt Romney are leaving no chance to take a dig at each other as part of their presidential Campaign and what better medium could it be for that than Twitter. Tweetwood captures the twitter conversation between Obama and Romney in real time. Designed in a contemporary chat style, Tweetwood presents an interesting way to look at Twitter Conversation between two celebrities.
Twitter trends at Tweetwood is another unique way to find out what other celebrities are talking about something. Tweetwood cuts the noise from the twitter feed and gives you exactly the tweets that you would be interested in. Just two trends, Obama and Romney, will give you an idea of which celebrity is following whom.
With more than 3200 global twitter celebrities (and counting) spanning multiple countries and categories, Tweetwood is the biggest portal based on Twitter Celebrities. The exclusive algorithm behind the scenes keeps adding more and more genuine twitter celebrities as they join twitter.
Tweetwood added new graphs recently to help followers know their favorite twitter celebrities better. Ever wanted to know when your favorite celebrity tweets? How have their followers grown over the last few months? Or How active they have been in recent months? Tweetwood makes it easy for you to analyze those statistics using new graphs. Tweetwood also added more sources to their twitter celebrity photos which have become hugely popular.
Tweetwood is developed by Manusis Technologies . Manusis specializes in building social networks, eCommerce portals, mobile applications and cloud based distributed apps using cutting edge technologies and agile methodology.