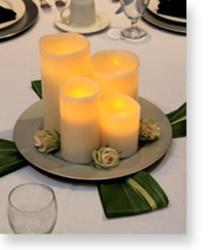 New York, NY (PRWEB) October 26, 2012
Spending money to decorate for Halloween can be outside the reach of the average American family, especially if money already has to be spent on costumes and candy. Budget-conscious parents have to look for a way to make Halloween special without wasting money. One of the best ways to do this is to use items that can be re-purposed in the home for the rest of the year, or even next Halloween.
Online retailer Smart Candle's LED flameless candles are designed for indoor use and can be re-used every fall. Flameless candles are battery powered and use light emitting diode (LED) technology to give the look of being lit. New for this fall, Smart Candle offers these candles with remote controls or automated timers.
These candles offer three timer settings, so they can be left to burn for four, six, or eight hours. Though they emit realistic glows, these candles remain cool to the touch, so they can be left unattended without worrying about kids or pets touching them or knocking them over.
The timer also allows you to program a time that you would like the candles to come on, so there is basically nothing to be done after initially setting the candle up and placing it where you want. For those who like the aromatic effect of a scented candle, some of these pillars come with scents like vanilla or sweetened biscotti.
For Halloween, these candles can be grouped together to create atmosphere in the home or even on the front walkway leading to the home. The remote can be used to make the candles flash at the scariest part of a spooky story. They can be used inside jack o' lanterns or as table centerpieces during Halloween festivities. These candles eliminate any fire risk, and so they can be used in ways ordinary candles would not; for example, they can be placed directly in the grass to light up the front lawn.
In addition to LED flameless candles, Smart Candle also offers accent lighting and candle lamps, all battery-powered for efficiency and safety.