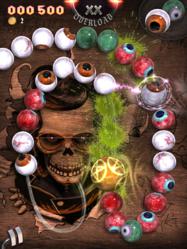 Eyelord is a game for everyone who loves to rock.
Helsinki, Finland (PRWEB) October 26, 2012
Secret Exit, the infamously perfectionist developer of quality games such as Stair Dismount and Zen Bound 2, has launched a new hard-rocking, eye-popping game for iPhone, iPad and iPod touch.
Eyelord is a labour of love for the hardy Finnish development studio, an action puzzle game involving popping eyeballs, a hungry skull, squishy sounds, over-the-top pyrotechnics, and a brand new original heavy rock opera soundtrack. It is truly an app that goes up to eleven.
"We're bringing back the power of heavy metal from the 70's and the 80's, and mixing that with fast, intense gameplay designed from the ground up for touch screens. Eyelord is a game for everyone who loves to rock." says Jani Kahrama, CEO of Secret Exit, "And our soundtrack features some of the best heavy metal from the cold far north, topped with gorgeous opera soprano vocals."
Eyelord is available now on the App Store, free to download, free to play, free to beware and behold.
No marble-spitting frogs are included. None.
About Secret Exit
Secret Exit is an independent game studio founded in 2006 with the goal of developing good, creative games with good people.
Secret Exit believes in the awesome power of press releases. http://www.secretexit.com
http://www.eyelordgame.com
http://www.facebook.com/eyelordgame
For more information, contact:
Jani Kahrama
jani(at)secretexit(dot)com