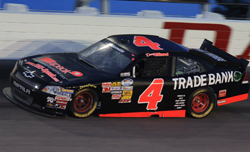 Irmo, SC (PRWEB) October 26, 2012
As the 2012 NASCAR season draws to a close, there are fewer than 200 drivers eligible to participate on the organization's circuits. Part-time Nationwide Series driver Danny Efland is one of them. But now that Efland has graduated from USC with a degree in engineering he is ready to take his team full time. He plans to race a complete schedule in the Nationwide Series beginning next spring.
As an independent team owner Efland operates on a shoestring budget that is approximately 1/5 the series average. He is seeking sponsorship to help him make up the budget gap so he can compete with the best teams in NASCAR. Efland is a skilled driver with a history of high finishes ever since he began racing. Last year he finished 16th at the very difficult Talladega race in Alabama.
According to team officials Efland got his start racing go carts at age five. From there he moved to Bandolero and Legends cars, then onto modified and eventually stock cars. All along the way he has won awards, including the South Carolina State Championship, the National World Karting Association(WKA) Championship and 2002 Rookie of the Year in the Pro Mod 4 class. He's already considered the top NASCAR Nationwide Series prospect heading into next season, and with a 14th place finish in the Kansas Lottery 300 with a car that was running with mechanical problems, he is showing determination in competing on a top level.
In addition to corporate sponsorships, Efland needs the support of his fan base in South Carolina. He's asking fans to visit his Facebook page at http://www.facebook.com/DannyEfland?ref=ts&fref=ts and "like" it. A large number of "likes" helps him demonstrate to potential sponsors he has a wide enough fan base to merit sponsorship. He's also asking fans to encourage Facebook "likes" among their friends as well. For complete information about Danny Efland and his team, visit his website at http://www.dannyefland.com. For sponsorship information, contact Kevin Yates at info@dannyefland.com.
About Danny:
Danny Efland is a NASCAR driver who races for JD Motorsports in the Nationwide Series. He has also competed in USAR Pro Cup and the Camping World Truck Series. He graduated with honors from Dutch Fork High School and graduated from the University of South Carolina with a degree in engineering. For more information on Danny's career, please visit his website at http://www.dannyefland.com.