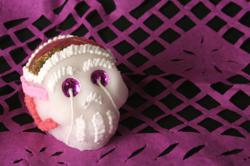 San Francisco, CA (PRWEB) October 28, 2012
SanJalisco Mexican Restaurant in San Francisco is looking forward to celebrating Day of the Dead on November 1st and 2nd. Day of the Dead, or "Día de los Muertos," in Spanish, is a traditional Mexican holiday honoring loved ones who have passed on. The restaurant will be selling traditional sugar skulls, or "calaveras de azúcar," just as they have done in previous years, to commemorate the occasion.
The history of Día de los Muertos dates back to the ancient Aztecs who viewed death as a continuation of life rather than its end. The idea was to embrace physical death as a means of full awakening in the next life. Their original festival took place during most of the month of August and included ceremonial rituals, prayers, family and community gatherings, and more.
Sugar skulls are used to adorn altars, and are edible. The modern tradition of consuming sugar skulls comes from the old Aztec practice of keeping the skulls of dead loved ones in the house for protection, and good luck. Today sugar skulls are eaten in that same hope of continued good luck.
Located at the corner of South Van Ness Avenue and 20th Street, SanJalisco Mexican Restaurant serves authentic Mexican food in the popular Mission District of San Francisco. Guests can dine on Mexican favorites including its award-winning pozole, enchiladas, mole, and fresh handmade tortillas. The restaurant also offers catering for your wedding, dinner party, or corporate events.
SanJalisco Mexican Restaurant, known as a local, family-owned restaurant with authentic Mexican food, will be selling sugar skulls for Day of the Dead while supplies last. Stop by today and enjoy any of our authentic Mexican dishes and be sure to pick up a sugar skull for Día de los Muertos!
About the company:
SanJalisco Mexican Restaurant is the destination place in San Francisco for quality authentic Mexican food. They offer dine in, take out, and catering services and accept reservations for large parties and events. Their wait staff is always friendly and their low prices and authentic regional style recipes keep their customers returning for more. For more information visit their website at http://www.sanjalisco.com.