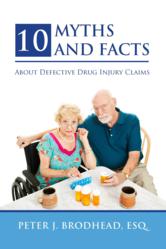 Cleveland, OH (PRWEB) October 30, 2012
Those considering filing a fungal meningitis lawsuit against New England Compounding Center may wish to know about a recent publication by a seasoned drug injury attorney. Peter J. Brodhead, a partner with Cleveland, Ohio, personal injury firm Spangenberg Shibley & Liber LLP, has spent 30 years litigating defective drug and medical device and product liability cases and served as a lead trial counsel in the Copley Pharmaceutical Albuterol contamination case. With that experience, he now shares important and helpful information in "Ten Myths and Facts about Defective Drug Injury Claims: What Every Consumer Needs to Know."
With the daily cascade of news reports about the devastating consequences of NECC's contaminated epidural steroid, people may have questions about the drug regulation process and how to proceed if they or a loved one has been affected. In easy-to-read, jargon-free language, Brodhead explains misconceptions about drug approval regulations, adverse events, and how to access critical information from the FDA's website.
http://www.youtube.com/watch?v=nWyhxA1ez9E
Perhaps even more importantly, Brodhead outlines 10 questions a person should ask when interviewing an attorney to take his or her case. As he says within his book, "Defective drug lawsuits require a considerable amount of work and skill, and it is important that attorneys representing you are a worthy match for the drug company's legal team."
To order a free copy of "Ten Myths and Facts about Defective Drug Injury Claims," please visit http://www.spanglaw.com/my-free-drug-info-book or call 216.357.2805.
About Spangenberg Shibley & Liber
Spangenberg Shibley & Liber handles a broad range of dangerous drug, defective medical device, personal injury, wrongful death, and product liability cases. For more information about the firm, please contact marketing manager Miranda Miller at 216.696.3232 or visit spanglaw.com.