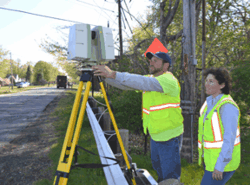 From bridge inspection and design to traffic, roadway and major infrastructure projects, our designs are aimed at extending the life of new facilities and delivering a high level of mobility and safety. - Mark Skellenger, P.E., President of KS Associates
Elyria, Ohio (PRWEB) October 29, 2012
Civil engineering and surveying firm KS Associates, Inc., of Elyria, Ohio, will be among this year's exhibitors at the annual Ohio Transportation Engineering Conference (OTEC) on Tuesday and Wednesday, October 30-31, 2012. The convention takes place at the Greater Columbus Convention Center in Columbus, Ohio. The event addresses the latest technology and policies affecting the Ohio transportation industry and is expected to bring together more than 2,800 transportation professionals.
Attendees are encouraged to stop by KS Associates' booth (#508) to discuss the latest civil engineering and surveying trends, and how they relate to the many aspects of transportation. Attendees can gain a better of understanding of the many services provided by KS Associates, which include Complex Roadway Design, Bridge Design Level I & II , Bridge Load Rating and Inspection, Right Of Way Plan Development, Traffic Signal Design, Surveying Services and Construction Administration/Inspection.
KS Associates will showcase its newest service line – 3D Laser Scanning – using its Leica ScanStation C10. This technology collects thousands of points per second that can be used to create three-dimensional, photo-realistic representations of the scanned environment. The result provides reliable, robust and extremely detailed data that can enhance the design and construction process.
About KS Associates:
KS Associates is a civil engineering and land surveying firm founded in 1987. The firm provides land survey and mapping services; 3D laser scanning services; design, bidding and construction administration of public infrastructure and transportation projects; and site development engineering services for residential, commercial and institutional projects. For more information visit: http://www.ksassociates.com.