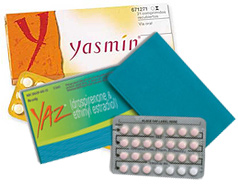 We are confident that legal justice will be achieved in this matter...
Chicago, IL (PRWEB) October 26, 2012
Popular Yaz attorneys, with firm McDonaldWorley.com, have filed a civil action lawsuit naming Bayer Healthcare Pharmaceuticals, Inc. as defendant for injuries suffered by the plaintiffs allegedly caused as a result of taking the birth control medication Yaz (Civil Action No. 11386-DRH-PMF, U.S. District Court Southern District of Illinois).
The action describes plaintiff Kathryn Parker as using Yaz/Yasmin from 2007 to approximately May 2007, allegedly resulting in the development of pulmonary emboli, pulmonary infarction and deep vein thrombosis.
According to court documents filed, numerous medical procedures were required as a result to treat blood clots. Further information about risks can be viewed in a recent release: Yaz side effects.
The popular medication is used as an oral contraceptive, containing estrogen and progestin, used to suppress ovulation, fertilization and prevent pregnancy. The medications were approved by the FDA in 2001 and 2006, according to the action.
April 10, 2012 a FDA Yaz birth control warning revealing an increased risk for blood clots associated with progesterone, an important component of the medication. According to the filing, there were over 50 reported deaths between the years of 2004-2008 related to taking Yasmin and Yaz.
"We are confident the legal system will support our action and result in justice being done," stated Michelle Eddington, lead Yaz attorney with the firm.
About McDonaldWorley.com:
The popular injury law firm accepts clients nationally who have suffered injuries or suffered. Women who took the birth control medication Yaz or Yasmin and suffered complications can and would like to learn more about their legal options can visit: http://mcdonaldworley.com/yaz-side-effects-lawyer.htm
Additionally, women who have suffering surgical mesh implant complications can take advantage of a limited time free lawsuit case evaluation, visit: http://mcdonaldworley.com/transvaginal-mesh-lawyer.htm