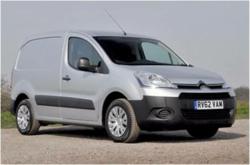 (PRWEB UK) 26 October 2012
A new article posted on Business Vans blog site, announces that the Citroen's Berlingo Airdream' will soon be receiving some substantial improvements to fuel consumption and emissions.
CITROEN'S Berlingo Airdream e-HDi micro-hybrid models have always been the most fuel-efficient Berlingo vans in the range. And from November, fuel consumption and emissions have been improved further, thanks to Citroen's continuous product development process.
All Berlingo Airdream models built from November onwards will offer improved combined-cycle fuel economy of up to 62.8mpg and CO2 emissions reduced to as little as 118g/km.
The e-HDi 90 manual L1 625 X / LX model has improved combined mpg by 2.2% at 58.9mpg and emissions reduced by 4g/km at 125g/km. The e-HDi 90 manual L2 750 X / LX offers a 2% improvement in fuel consumption at 56.5mpg combined, and a 2g/km drop in emissions at 132g/km.
The e-HDi 90 EGS6 L1 625 LX variant now provides consumption of 62.8mpg combined, a 4.5% increase, with emissions reduced to 118g/km, a decrease of 5g/km. And the e-HDi 90 EGS6 L2 750 LX model has improved fuel consumption by 2% at 60.1mpg combined, with a 4g/km fall in emissions at 122g/km.
Click here for more on the Citreon Berlingo on the Business Vans blog.
For other information, visit Business Vans at http://www.businessvans.co.uk/.