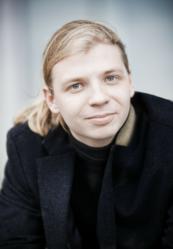 Baltimore, MD (PRWEB) October 26, 2012
Baltimore Symphony Orchestra (BSO) and Music Director Marin Alsop have been acclaimed for their performances and recordings of Czech master Antonin Dvořák. On November 15 and 16 at 8 p.m. at the Joseph Meyerhoff Symphony Hall and November 17 at 8 p.m. at the Music Center at Strathmore, the BSO will perform Dvořák's lyrical Eighth Symphony and Brahms' poetic Piano Concerto No. 2, performed by pianist Denis Kozhukhin in his BSO debut. Please see below for complete program details.
Dvořák composed and orchestrated his Eighth Symphony within an incredible two-and-a-half –month period from August 26 to November 8, 1889 in Vysoká u Příbrami, Bohemia. He dedicated the score "To the Bohemian Academy of Emperor Franz Joseph for the Encouragement of Arts and Literature, in thanks for my election." The February 2, 1890 premiere was conducted by the composer himself, and although not as frequently performed as his famous Ninth Symphony ("From the New World"), this cheery Bohemian symphony is no to be missed.
Russian pianist Denis Kozhukhin, winner of the 2010 Queen Elizabeth Competition for which Marin Alsop was a judge, will be making his BSO debut with Brahms' Piano Concerto No. 2. Brahms began work on his difficult Piano Concerto No. 2 22 years after his first piano concerto. It took him three years to complete this piece, which he dedicated to his teacher Eduard Marxsen. The November 9, 1881 premiere featured the composer as the soloist and was a huge success. Brahms then took his concerto on tour across Europe.
Marin Alsop, conductor
Hailed as one of the world's leading conductors for her artistic vision and commitment to accessibility in classical music, Marin Alsop made history with her appointment as the 12th music director of the Baltimore Symphony Orchestra. With her inaugural concerts in September 2007, she became the first woman to head a major American orchestra. She also holds the title of conductor emeritus at the Bournemouth Symphony in the United Kingdom, where she served as the principal conductor from 2002-2008, and is music director of the Cabrillo Festival of Contemporary Music in California.
In 2005, Ms. Alsop was named a MacArthur Fellow, the first conductor ever to receive this prestigious award. In 2007, she was honored with a European Women of Achievement Award, in 2008 she was inducted as a fellow into the American Academy of Arts and Sciences and in 2009 Musical America named her "Conductor of the Year." In November 2010, she was inducted into the Classical Music Hall of Fame. In February 2011, Marin Alsop was named the music director of the Orquestra Sinfônica do estado de São Paulo (OSESP), or the São Paulo Symphony Orchestra, effective for the 2012-13 season. Ms. Alsop was named to Guardian's Top 100 Women list in March 2011. In the spring of 2011, Marin Alsop was named an Artist-in-Residence at the Southbank Centre in London, England.
A regular guest conductor with the New York Philharmonic, Philadelphia Orchestra, London Symphony Orchestra and Los Angeles Philharmonic, Ms. Alsop appears frequently as a guest conductor with the most distinguished orchestras around the world. In addition to her performance activities, she is also an active recording artist with award-winning cycles of Brahms, Barber and Dvořák.
Marin Alsop has led Baltimore Symphony Orchestra in several key outreach initiatives. In 2008, she partnered with the BSO to launch OrchKids™, a music education and life enrichment program for youth in West Baltimore. In 2010, she conducted the first "Rusty Musicians with the BSO" – an event that gave amateur musicians the chance to perform onstage with a professional symphony orchestra and quickly became a popular component of the BSO's efforts to connect with the community. In June 2010, Maestra Alsop conducted the inaugural BSO Academy – an immersive summer music program that gives approximately 100 amateur adult musicians the opportunity to perform alongside a top professional orchestra.
Marin Alsop attended Yale University and received her master's degree from The Juilliard School. In 1989, her conducting career was launched when she won the Koussevitzky Conducting Prize at Tanglewood where she studied with Leonard Bernstein.
Denis Kozhukhin, piano
Denis Kozhukhin, who was born in Nizhni Novgorod in 1986, won First Prize in the Queen Elisabeth Competition in 2010, and was the winner of the 2009 Vendome Prize. He studied with Dmitri Bashkirov, and subsequently with Kirill Gerstein, and has appeared at many of the most prestigious festivals and concert halls worldwide. This includes the Verbier Festival, where he won the Prix d'Honneur in 2003, Progetto Martha Argerich in Lugano, Klavier-Festival Ruhr, Rheingau Music Festival, Jerusalem International Chamber Music Festival, Santander International Festival, Carnegie Hall, Leipzig Gewandhaus, Munich Herkulessaal, Rotterdam De Doelen, Amsterdam Concertgebouw, Auditorio Nacional Madrid, Accademia Nazionale di Santa Cecilia Milan, Palau de la Musica Valencia, Théâtre du Châtelet and Auditorium du Louvre, Paris.
Recent concerto highlights season have included the complete cycle of Prokofiev Piano Concertos with the BBC Scottish Symphony Orchestra working with Jun Maerkl, Xian Zhang, Lan Shui, Ludovic Morlot and Martyn Brabbins, visits to the St Petersburg Philharmonic with Krivine, Bournemouth Symphony with Alsop, Orchestre National de Lille with Casadesus, Luxembourg Philharmonic with Sinaisky, Netherlands Philharmonic with Karabits, Belgian National Orchestra with Boreyko and Prague Philharmonia with Hrusa. Recent recital engagements have included return visits to the Verbier Festival, Auditorium du Louvre, Paris, and International Keyboard Institute and Festival, New York as well as his debut at the City of London Festival in July 2012.
Concerto highlights of the 2012/13 season include engagements with the Vienna Symphony, Baltimore Symphony, Seattle Symphony, Yomiuri Nippon Symphony, St Petersburg Philharmonic and Royal Liverpool Philharmonic Orchestras.
COMPLETE PROGRAM DETAILS
BSO Classical Concert: Lyrical Dvořák and Brahms
Thursday, November 15, 2012 at 8 p.m. – Joseph Meyerhoff Symphony Hall (JMSH)
Friday, November 16, 2012 at 8 p.m. – JMSH
Saturday, November 17, 2012 at 8 p.m. – Music Center at Strathmore
Marin Alsop, conductor
Denis Kozhukhin, piano
Dvořák – Symphony No. 8
Brahms – Piano Concerto No. 2
Tickets range from $28 to $63 and are available through the BSO Ticket Office, 410.783.8000 or BSOmusic.org.
###