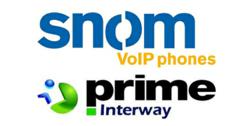 Woburn, Mass. and Berlin, Germany (PRWEB) October 29, 2012
snom technology AG, a leading developer of IP desktop phones and IP communications solutions, announced today a distribution deal with Prime Interway, a value-added distributor headquartered in Greenville, South Carolina, with offices in Sao Paulo, Rio de Janiero and Minas Gerais, serving the Brazilian market. Prime Interway is now an official snom distributor and will offer snom's full portfolio of business VoIP phones, IP PBX solutions and UC-enabled endpoints to its network of value-added resellers (VARs), network service providers and system integrators throughout Brazil. The resellers service large-scale customers across all industry sectors, including banking, retail, logistics, sales, manufacturing, field service and government.
"We were impressed with the quality and range of snom's products and the value they offer users," explains Marco Castro, President of Prime Interway. "More and more businesses in our region are looking to take advantage of IP telephony solutions, including VoIP phones, IP PBX and snom UC edition phones for Microsoft Lync. By offering snom's products, we can better meet our customers' needs."
With the snom VoIP portfolio, Prime Interway adds a business phone solution to its comprehensive lineup of Automatic Identification and Data Capture (AIDC) products, including supplies for barcode printing, reading and data capture, printing on demand, wireless infrastructure, management systems, e-commerce, CRM, EIS, WMS, mobility and RFID products.
"It's a great opportunity to offer our products through one of Brazil's largest communications providers," said Dr. Michael Knieling, chief operating officer, snom technology AG. "This is a big step forward for snom, one that showcases the strength of our product portfolio in this market. Purchasing snom products through Prime Interway gives customers peace of mind, knowing they are investing in high-quality equipment backed by first-class customer support and expertise."
For more information about snom in the Americas, please visit us at http://www.snomchannel.com, follow us on Twitter, like us on Facebook, join our LinkedIn group, or add us on Google+.
About snom
snom technology AG develops and manufactures VoIP telephones and related equipment based on the IETF open standard, SIP (Session Initiation Protocol). Recognized for its high-quality, customizable, and cost-effective business solutions, snom is also differentiated by the company's history in the VoIP industry, and its dedication to high security standards. All of snom's products, from desktop phones to IP PBXs, are designed to be fully interoperable with leading communications equipment vendors. snom customers benefit from the interoperability and flexibility that the snom telephones offer, including plug and play integration and universal compatibility with any SIP-based telephony platform. Founded in 1996 and headquartered in Berlin, Germany, snom technology AG also has offices in Italy, France, the United Kingdom and the US. The company distributes its fourth generation SIP phones through its network of more than 60 authorized reseller partners in 200 countries worldwide. For more information on snom, please visit http://www.snom.com.
About Prime Interway
Prime Interway is one of the largest international value-added distributors focused on AIDC and enterprise mobility products. Prime Interway covers both North and South America, serving large-scale customers in all sectors of the economy, such as banking, retail, logistics, sales force, manufacturing, field service and government. Quality service has been a staple of the company since 1991, when Prime Technologies entered the market. In 2010, Prime transformed into a distributor, and later merged with Interway, thus becoming Prime Interway in 2011. Our work lies in ensuring that our customers are always a step ahead of the competition. To that end, we offer consulting services, support, maintenance, training and authorized technical assistance. Our services are aligned and integrated with a complete portfolio that includes: supplies for barcode printing, reading and data capture, printing on demand, wireless infrastructure, management systems, e-commerce, CRM, EIS, WMS, mobility and RFID projects. For more information on Prime Interway, please visit http://www.primeinterway.com.br.
Media Contacts
snom – North America
John Gates/Mark Baizen
Elevate Communications
+1 (617) 861-3651/3680
john(at)elevatecom(dot)com
mbaizen(at)elevatecom(dot)com
Mike Storella
snom technology, Inc.
18 Commerce Way, Suite 6000
Woburn, MA 01801
(781) 569-2044
mike.storella(at)snom(dot)com
snom - Global
Heike Cantzler
Christian Baier
snom technology AG
D-10117 Berlin
Germany
+49-30-39833-103/106
heike.cantzler(at)snom(dot)com
christian.baier(at)snom(dot)com
Prime Interway - Brazil
Juliana Barletta
Prime Interway
+55-11-3027-1108
juliana.barletta(at)primeinterway(dot)com(dot)br