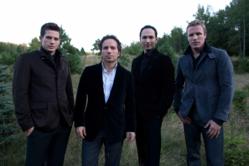 Baltimore, MD (PRWEB) October 26, 2012
The Baltimore Symphony Orchestra (BSO) SuperPops welcomes The Canadian Tenors, led by conductor Michael Rossi, to the Joseph Meyerhoff Symphony Hall on Thanksgiving weekend, with performances on Friday, November 23 and Saturday, November 24 at 8 p.m., and on Sunday, November 25 at 3 p.m. The Tenors, who have sung with such superstars as Sting, Sheryl Crow, Sarah McLachlan, Neil Young and Sir Paul McCartney, will bring their blend of pop and classic songs to Baltimore audiences. Please see below for complete program details.
About the Canadian Tenors
The Tenors' music is an exciting blend of classical and contemporary pop that is thrilling audiences of all ages around the world. The Tenors are the incredibly powerful voices of four gifted young men with diverse vocal styles, undeniable charm and international solo success.
The Tenors have crisscrossed the globe thrilling music lovers with their magical voices, wonderful sense of humor and memorable music. The foursome have received rave reviews from the Tel Aviv Opera house where they shared the stage with Andrea Bocelli; to Las Vegas' Mandalay Bay Coliseum and NYC's Madison Square Garden with David Foster and Friends Hitman Tour; to Toronto's Air Canada Centre where they headlined at ONE NIGHT LIVE with Sting and Sheryl Crow; to Sarah McLachlan's Summer Sessions concert with Neil Young and in London with the legendary Paul McCartney at the Old Vic theatre.
Their debut album has gone platinum in Canada and is being released around the world. Their holiday album, "The Perfect Gift," also went gold in Canada in only three weeks, has since gone platinum and has been released in the US as well. They have collaborated with world-renowned producers Quiz and Larossi in Sweden (Il Divo), Bob Ezrin (Peter Gabriel, Pink Floyd) Grammy Award-winner Steve Thompson (Madonna), Juno Award winner Jeff Wolpert (Loreena McKennitt) and Grammy Award winner Sarah McLachlan and David Foster.
The Tenors have raised their voices to passionately support many children's charities. They recently filmed a documentary in Africa, where their voices were united with local children's to bring awareness to Bulembu, Swaziland, a town being reborn after years of suffering. They shared the stage with Matt Damon and Ben Affleck helping children at the ONEXONE galas and performed at Free the Children's amazing "We Days" performing alongside the Dalai Lama, the Jonas Brothers and many others.
For more information, visit http://www.tenorsmusic.com.
COMPLETE PROGRAM DETAILS
BSO SuperPops presents: The Canadian Tenors
Friday, November 23 at 8 p.m. – Joseph Meyerhoff Symphony Hall (JMSH)
Saturday, November 24 at 8 p.m. – JMSH
Sunday, November 25 at 3 p.m. –JMSH
The Canadian Tenors, vocalists
Victor Micallef
Clifton Murray
Remigio Pereira
Fraser Walters
Michael Rossi, conductor
Baltimore Symphony Orchestra
Note: The program will be announced from the stage
Tickets range from $28 to $63 and are available through the BSO Ticket Office, 410.783.8000 or BSOmusic.org.
###