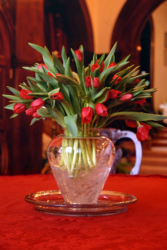 (PRWEB UK) 28 October 2012
There are some flowers that people associate with particular seasons; and there are some flowers which are available when they least expect them. Online Wedding and Events Florist Todich Floral Design are taking advantage of the growers' skills by making unique tulip displays from the newly seasoned flowers.
The florist is also in the process of updating their online gallery and is using the variety of different coloured tulips to their full potential for new images on their online portfolio.
Head Florist Kalina Weirzycka says 'One of the advantages of tulips is that they come in so many colours, The events we decorate can be dressed in a beautiful rainbow of tulips, We love working with these delicate flowers because they give us a larger choice for designs and the variety of shades allow us to blend them easily with other flowers'.
It is known globally that out of season tulips are more economical than many other flowers. Tulips bring a ray of sunshine; they are not only beautiful but they are cost effective and won't break the bank, they are the nation's favourite flower after Roses.
'Every season brings its delights but autumn brings a little something extra' says senior florist Carol Burgess. 'Every year new techniques are being developed by the growers which results with more unusual flowers being available every year. We revise new designs to fit with the available floral selections'.
As Halloween is part of the autumn season unusual combinations can enhance the look of a venue. Black baccurra roses, bold red tulips and sprigs of material trim can make a surprisingly striking floral display; Todich Floral Design encourages clients to put any ideas that they have forward, as together the florist and client can create unique designs which have never been seen before.
As the year rolls on Todich Floral Design intends on doing its best to ensure that the public has plenty of ways to enjoy the seasons to the full. Every year brings a new challenge with matching to their customer's tastes; the online florist looks forward to the upcoming launch of the new gallery.
About Todich Floral Design
Todich Floral Design is an online wedding an events florist based in South London; the florist has a team of skilled managers, floral designers and sales consultants that prides themselves with the ability to create unique and spectacular floral arrangements on a continuous basis. Todich Floral design also provides instant gifts, bouquets, vases and arrangements through their online flower delivery with a same day flower delivery in London and next day flower delivery in UK.