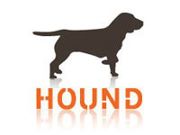 The numbers offered by ADP and the Labor Department aren't as immediate as those gathered by Hound.com
Pasadena, CA (PRWEB) October 26, 2012
ADP recently announced its intention to modify the way it compiles its monthly jobs reports so they are more accurate and more closely match the statistics released by the Department of Labor. In contrast, Hound.com, a job search website, has consistently been an accurate predictor of job growth. . "It's easy to see how much growth there is," says Hound CEO, A. Harrison Barnes. "In the month of September, an average of 19,266 jobs were added to the site." He adds that on September 1 there were 1,057,760 positions listed for the job search and on September 25 there were 1,077,340 positions. That's a 1.8-percent increase in positions over the course of the month, a figure in line with national growth averages.
ADP typically releases an estimate of private payroll growth each month, right before the Department of Labor releases its own. Analysts utilize ADP figures to predict the Labor Department's numbers and the number of employer jobs available in the economy. To create more accuracy in its estimates, ADP is increasing the number of employees from firms it includes in its samples. It has also decided to swap out Macroeconomic Advisers for Moody's Analytics as its collaborator. It is ADP's hope that these changes will make its estimates more closely in line with what the Labor Department releases. Initial data gathering has been promising, according to Moody's.
In September, ADP estimated much too high, stating that 162,000 jobs were created while the Labor Department found only 141,000. Even more accuracy can be found at Hound.com, because while both ADP and the Labor Department survey frequently, they don't get an indicator of job growth on a daily basis. Hound.com uses its servers to see how many job postings are added each day. This process offers a practically up to the minute inside look at the economy and employment figures.
About Hound.com
Hound.com is owned and operated by A. Harrison Barnes in Pasadena, CA and is a part of the Employment Research Institute.