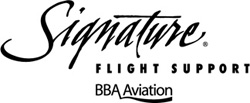 (PRWEB) October 29, 2012
Earlier this year, Signature Flight Support signed an agreement to make National Car Rental the preferred rental car partner for its global network. Today, the parties announced that members of National Car Rental's award-winning Emerald Club loyalty program can now earn Signature TailWins™ rewards for their rental car purchases. The points are awarded for every dollar spent on rental time and mileage.
Maria Sastre, Chief Operating Officer of Signature Flight Support said, "We are very excited about our partnership with National Car Rental. Their dedication to customer service is second to none and aligns with Signature's efforts to provide world-class service at all of our global locations. The ability for National's customers to now earn Signature TailWins™ points extends even more value to our mutual customer base."
"National remains focused on delivering premium service to frequent airport travelers, and we are proud to provide Signature's unique customer base with top-notch service throughout its global network," says Brad Carr, vice president of business rental development for Enterprise Holdings, which operates National Car Rental. "Offering customers the opportunity to earn Signature TailWins™ points further enhances our partnership and rewards customers for their loyalty."
Signature TailWins™ is a ground-breaking loyalty program for pilots, crew, schedulers and dispatchers, corporate flight and travel departments offering one of highest rates of rewards currently available in the industry. The Signature TailWins™ program rewards customers with desirable products, services and experiences from jewelry, destination travel, electronics, technology and even a famous American motorcycle brand. Alternatively, members can donate their points to charity and can split their points amongst their flight crew, flight department staff and schedulers and dispatchers.
Points are awarded for fuel and handling purchases within the Signature network and for maintenance at Signature TECHNICAir™ locations, with double points awarded when transactions are completed with the Signature Flight Support aviation card. Members can also earn points for purchases of fuel wherever the U.S. Bank Multi Service Aviation card is accepted, worldwide, at over 7,500 locations and in 190 countries. The Signature TailWins™ program covers both AvGas and Jet-A and is applicable for purchases with the exception of military, government or transport category transactions.
The enrollment process is simple and user friendly and customers are able to use their Signature TailWins™ rewards number immediately upon enrollment. Redeeming rewards is easy with a convenient online catalog and customer Signature TailWins™ account summary that allows them to monitor their rewards balances and update their profiles. More information on Signature TailWins™ can be found at: http://www.signatureflight.com/rewards.
Joining National's Emerald Club loyalty program is also easy, just visit http://www.nationalcar.com/signature to enroll. In addition to Signature TailWins™ points, National is running its One, Two, Free promotion through January 2013. Details are also available at http://www.nationalcar.com/signature.
Signature Flight Support and National Car Rental representatives will be onsite at NBAA 2012, booth N3100 for those interested in joining the programs.
About National Car Rental
Founded in 1947, National Car Rental is a premium, internationally recognized brand serving the daily rental needs of the frequent airport traveler throughout the world. With National, time-sensitive customers in the United States are able to quickly choose their own vehicles, based upon their advance reservation and requested car class, and then simply drive away from the airport. National – which launched the car rental industry's first comprehensive frequent-renter program – further expedites the rental process for Emerald Club members by offering counter bypass as well as access to National's "Emerald Aisle," an exclusive section of the lot where members can select any vehicle as long as they reserve a mid-sized car. In addition, Emerald Club members can choose to receive EmeraldAlertsSM – emailed communications that include Arrival and Return Alerts, and Drop & GoSM service with convenient eReceipts.
In 2011, Executive Travel magazine recognized National as the top rental car service in the travel industry, honoring the brand with its "Leading Edge Awards." In addition, the SmarterTravel Editors' Choice Award went to Emerald Club in 2010 and 2011 as the "Best Rental Car Loyalty Program." Emerald Club also was awarded a 2010 Business Traveler Innovation Award – sponsored by the National Business Travel Association (NBTA) and The Wall Street Journal – for expediting the travel process and enhancing convenience and efficiency. National is the "Official Car Rental Company" of the PGA of America.
Signature Flight Support Corporation, a BBA Aviation plc company, is the world's largest fixed-base operation (FBO) and distribution network for business aviation services. Signature services include fueling, hangar and office rentals, ground handling, maintenance and a wide range of crew and passenger amenities at strategic domestic and international locations. Headquartered in Orlando, Florida, Signature currently operates at more than 100 locations in the United States, Europe, South America, Africa and Asia. For more information, please visit: http://www.signatureflight.com or on Facebook at http://www.facebook.com/signatureflightsupport. Follow Signature Flight Support on Twitter: SignatureFBO.
BBA Aviation plc is a leading global aviation support and aftermarket services provider with market leading businesses and attractive growth opportunities. BBA Aviation's Flight Support businesses (Signature Flight Support®, ASIG® and Signature TECHNICAir™) are focused on refueling, ground handling and/or maintenance of business and commercial aviation aircraft. Its Aftermarket Services and Systems businesses (Dallas Airmotive, Premier Turbines, H&S Aviation, International Turbine Service®, Barrett Turbine Engine Company, International Governor Services, Ontic®, and APPH®) are focused on the repair and overhaul of jet engines and the manufacture and services of aerospace sub-systems and components. For more information, please visit http://www.bbaaviation.com.
CONTACT:
Signature Flight Support Corporation
Patrick D. Sniffen, Vice President Marketing
+1 407 206 5212
patrick.sniffen(at)signatureflight(dot)com