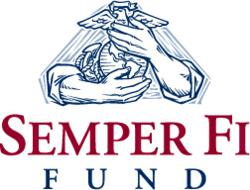 Washington, DC (PRWEB) October 26, 2012
On Sunday, October 28th over 950 runners and hand cyclists will participate in the 2012 Marine Corps Marathon on behalf of the Semper Fi Fund, making it the largest charity partner at this year's race for the third year in a row.
In preparation for the event, hundreds of athletes across the country have spent the past twelve months training, fundraising and sharing the Semper Fi fund mission with their family members, friends and coworkers. On track to meet a sponsorship goal topping $600,000, these athletes have not only raised donations, they've raised awareness for the ongoing needs of injured and critically-ill service members and their families.
Among this group of competitors are over 80 members of Team Semper Fi, an elite sports team made up of more than 400 injured service members who regularly participate in athletic events across the country. Founded on the idea that competitive sport fosters recovery through community and camaraderie, Team Semper Fi is an important extension of the assistance Semper Fi Fund provides.
Semper Fi Fund will also be hosting its annual pre-Marathon Pasta Dinner in Arlington, Saturday October 27th featuring special guest speakers General Alfred M. Gray and General James T. Conway, both former Commandants of the Marine Corps. Runners and cyclists will fuel up on carbs for the big day, and have a chance to meet their fellow competitors.
Click here for more information.
Please direct all media inquiries to:
Alicia Sellitti
Public Relations
917-822-9010
alicia.sellitti(at)iostudio(dot)com
Sunday, October 28, 2012, 8:00am – 6:00pm
Marine Corps Marathon
Charity Village
Semper Fi Fund tent
Arlington, VA 22202
About Semper Fi Fund
The Injured Marine Semper Fi Fund is a 501(c)(3) nonprofit set up to provide immediate financial support for injured and critically ill members of the U.S. Armed Forces and their families. The Semper Fi Fund provides relief for financial needs that arise during hospitalization and recovery as well as assistance for those with perpetuating needs. Our program provides support in a variety of ways including: Service Member and Family Support, Specialized & Adaptive Equipment, Adaptive Housing, Adaptive Transportation, Education and Career Transition Assistance, PTSD and TBI Support and Team Semper Fi. For more information visit http://www.semperfifund.org, http://www.facebook.com/semperfifund, or follow them on Twitter @semperfifund.
About Team Semper Fi
Team Semper Fi is an athletic sports team made up of more than 400 injured service members who compete in athletic events across the country. With their motto "Recovery Through Sport" Team Semper Fi is the heart and inspiration of Semper Fi Fund's rehabilitative athletic program, an extension of the assistance SFF provides. The team is made up of servicemen and women who have overcome significant challenges in their service to our country and have embraced the fighting, athletic spirit on their road to recovery. For more information visit: http://www.teamsemperfi.org.
About the Marine Corps Marathon
The 2012 Marine Corps Marathon will host 30,000 registered participants. It starts in Arlington, VA and winds through the nation's capital and across the Potomac River before heading back into Northern Virginia for the iconic finish at the Marine Corps War Memorial in Rosslyn. Voted the best marathon for families, the Marine Corps Marathon honors the dedication, sportsmanship and patriotism of its participants. Runners from all walks of life participate in the largest marathon not to offer prize money, earning the name, "The People's Marathon."