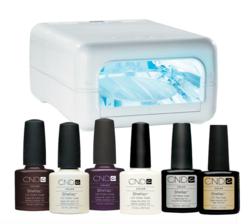 (PRWEB) October 26, 2012
Where many professional beauty suppliers prefer to deal exclusively with trade customers such as salons and manicurists, the innovative nails supplies online site, eNail Supply is now welcoming shoppers who want to stock up on their favorite beauty brands such as CND Shellac and Artistic Color Gloss at a discount.
According to the latest Consumer Reports Index's Trouble Tracker, consumers are increasingly feeling the pinch with more Americans than ever struggling to make ends meet. In times of austerity, indulgent treats such as manicures and beauty products can be left to one side but, this needn't be the case for the shopper buying their nails supplies online. With trade prices available to those not touting a certified therapist card or spa employee discount via eNail Supply, it's easy to maintain a therapeutic beauty routine without racking up debt.
Sudeep Arya Vice President of Marketing said, "We felt very strongly that women who have seen their household incomes decline shouldn't give up their beauty treats as the relaxing effects of a manicure or pedicure can be a bright spot in an otherwise tough week. We know that sometimes a nail salon appointment can seem like too much of a luxury when cash is needed elsewhere. We decided that one way we could help shoppers to look good and feel good without breaking the bank is to offer easy access to our product range and free shipping. Our shoppers get the benefit of our trade prices without needing to be a nail professional, allowing for guilt-free indulgence."
The move by eNailSupply.com to welcome shoppers who want to try a DIY manicure is already paying off with thousands snapping up their favorite polishes. One of the online nail supplier's best sellers is the CND Shellac range. A high-performing hybrid that fuses the long lasting wear of UV gel polish with the look of a traditional nail color, it is available in a cornucopia of shades from the classic vanilla-inspired Cityscape to sultry Hollywood, vibrant Tutti Frutti and the vampy Poison. As well as the polishes themselves, eNail Supply also stocks a range of CND Shellac accessories such as nail wraps, base coat and manicure lamp to set the gel. Prices start from $16.95.
The UV-cured range of Artistic Color Gloss polishes is also proving popular with shoppers keen to get their hands on the 38-strong color palette. Mark Bischoff added "These polishes make great additions to holiday make-ups kits as they can last for two weeks without chipping or flaking. We're seeing autumnal and wintery shades such as Fashionista which is a deep purple and the lavish taupe Luxe be in great demand."
Where a gel manicure would cost upwards of $40 in a salon, the Artistic Color Gloss gel polishes start at $15.95. The site stocks other essentials such as the UV light needed for curing and soak off kits for easy removal. For those with an artistic streak, there is also an extensive selection of Artistic Color nail art kits and accessories.
To browse the entire range of polishes and beauty supplies from the nails supplies online experts, eNail Supply, please visit http://enailsupply.com/
About Us:
eNail Online supplies professional and salon-quality beauty products for the hands, feet and nails. It stocks a huge rand of brands including Essie Nail Polish, CND Shellac, Artistic Color Gloss and Gelish for shipping worldwide. eNail Online supplies to licensed nail technician, aesthetician, depilatory professionals and beauty consultants as well as regular shoppers. It offers worldwide delivery and complimentary help and advice from a team of qualified technicians.